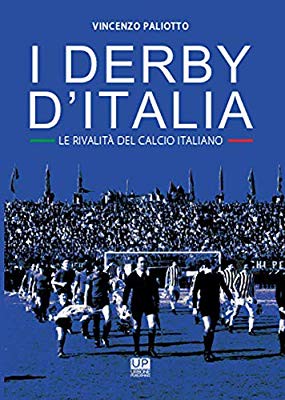 Two(2) of Serie A's most successful club sides Juventus and Inter Milan lock horns in the famous Derby D'Italia for the 175th Serie A fixtures on Sunday evening. With both teams on the heels of each other on the Serie A log table(Inter playing a game less), the result of this matchup will definitely shape up the table with high flying Lazio waiting in the wings to pounce on any slip off from either or both of them.
Inter Milan will want to get one over their rival at this 2nd time of asking having lost the 1st leg 1-2 at the San Siro. The Derby D'Italia had been touted to be where the league is won or lost for either of the duos of Juve and Inter, however, having played 25 league matches so far, the top 3 of Juve, Lazio & Inter are separated with just 6 points as shown in the league table, and a lot can still go right or wrong irrespective of the results of Derby D'Italia.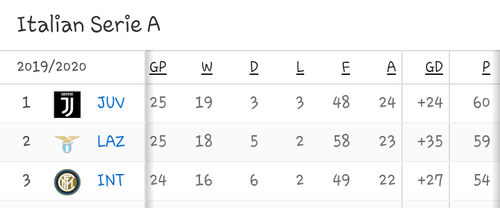 Juventus:
Juve has won every single scudetto since 2011/12 season till date, however, the Old Ladies have not been dominant in the past couple of years, failing to do a domestic double last season. Some pundits have attributed the recent struggle of the team to over-reliance on Cristiano Ronaldo, the support casts of Paulo Dybala, Gonzalo Higuain, Juan Cuadrado have not all measure up and some had further argued that the manager Maurizio Sarri's tactics are to blame.
Nevertheless, the champion plays at home and will draw inspirations from the home crowd and of course, Ronaldo is always fired up for the big occasions.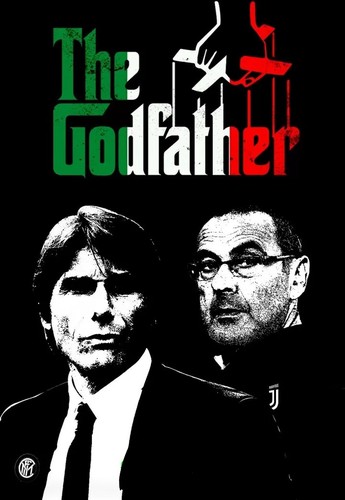 Inter Milan:
Inter's resurgence under Antonio Conte has been well documented and the new lease of life within the Nerazzurri camp has brought about believes and dreams of a 1st Scudetto title in more than a decade. However, Inter were on a 6 match winning run when they played and lost the 1st leg 1-2 to Juve and if there is any manager to be wary of Juve's prowess any day & anytime, it would be Antonio Conte. In 2011/12-2013/14, Conte helped Juventus laid the foundation on which 8 consecutive Serie A titles were won.
Head-2-Head:
Though Inter Milan's last visit to the Allianz Stadium was a 1 all draw at the International champions cup last summer, her overall record against Juve over last 5 matches is not encouraging, recording just 2 draws and lost 3 as shown below;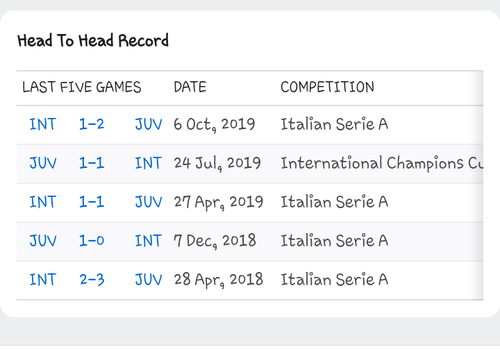 Key Players:
Juventus undoubtedly go-to man is Cristiano Ronaldo(11 consecutive Serie A goals attest to that fact), however, the duo of Paulo Dybala & Gonzalo Higuain can inflict damage to any team on their day. Be that as it may, the front 3 of the trio has not really worked, the manager Sarri might, therefore, stick to Juan Cuadrado in place of either of Dybala or Higuain in the attack.
Inter Milan, on the other hand, have a more clicking forward lineup of Romelu Lukaku, Lautaro Martinez & Alexi Sanchez(Alexi especially gradually getting his groove back after a long injury lay off). Whatever tactic or formation Conte opted for, 3-4-3 or 3-5-2, these 3 will definitely play a daring role if Inter is to get a result against Juve. The likes of Christian Eriksen & Marcelo Brozovic could also be pulling the strings from the midfield.
Betting odds:
The reigning champion has the edge in this tie and the bookies agree, however, there is more to winning your bet than predicting just the winner, smart scorum could be placed on CR7 getting a goal or 2 while Dybala & Higuain could also be on the scoresheet;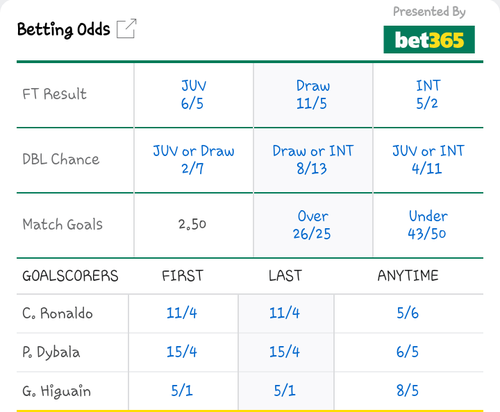 My Prediction:
Juventus 2-1 Inter Milan,
As much as i want to root for Inter, i just think Juve knows out to grind out results, especially on home turf, i mean that's why they are 8-times back-to-back champion.
Thank you for your support.