Manchester City won Tottenham Hotspurs 4-3 at the Etihad Stadium in the 2nd leg of the UCL quarterfinal tie but lose on 4-4 aggregate in an explosive end-to-end match that can easily be classed by many as match of the season in every sense. The semifinal lineup has now been completed with Spurs joining fellow EPL Club, Liverpool, Ajax Amsterdam, and FC Barcelona in the last 4.
Pep Guardiola was widely criticized for over tinkering his side in Manchester City's 1 nil 1st-leg defeat to Spurs at the White Hart Lane Stadium. His side now faces a tricky return leg at the Etihad Stadium in the 2nd installment of Man City-Spurs 3-match ties. The thirst for quadruple titles drives Guardiola more than anything even though he has not really come out to publicly admit to the quadruple claims. City welcome both Sergio Aguero and Fernandinho back into the squad and are a timely boost to the squad.
Spurs have certainly settled quickly into their rebranded and refurbished home, the atmosphere at White Hart Lane has been tremendous and key to their end-of-the-season run-ins. Going into the tie, Spurs missed Harry Winks as much as they missed Harry Kane, Winks has been putting in some commanding display recently, however, Dele Alli and Erik Lamela are both back in the squad and are in connection for starting lineup.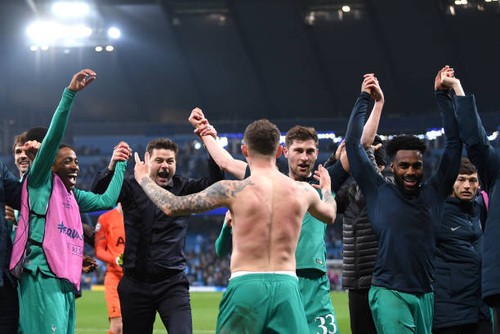 The match started like a house on fire, kick-off whistle barely sounded before it started raining goals at the Etihad. A lot had been said about Raheem Sterling improvement under Pep Guardiola, and he showed his prowess again when he curled in a wonderful goal in the 4th minutes, a Leo Messi-esque goal. However, the celebration was short-lived, Spurs hit back in a blink of an eye through Spurs' undoubtedly player of the season, Heung-Min Son in the 7th minute. Man City was still shocked and have not recovered before Spurs hit again 3 minutes later, once again Son the man at the end of a quick Spurs move. Just when it seemed like the mission is no longer possible for City, they responded with 2 quick goals, firstly, Bernando Silva deflected shot in the 11th minute and then, that man again, Sterling in the 21st minute, Yes! 5 goals in the 1st 21-jaw-dropping minutes. There was a major blow for Spurs in the 40th minute when Moussa Sissoko was substituted due to an injury, and Pochetino had to alter his game plans. The 1st half ended with City leading 3-2 but Spurs still hold the aggregate advantage(3-3).
The 2nd half started with City doing all the playing knowing 1 more goal will see them through, Spurs, on the other hand, sat back, soaking all the pressure and then hit back on a counter attack, it nearly paid off in the 57th minutes but Vincent Kompany timely interception saved City's blushes. A couple of minutes later, City got their goal, Kevin De Bruyne again the orchestrator, releasing Aguero through on goal, and from a tight angle, the little Argentine fired home. There was still lots of drama in this intriguing encounter, Pochetino's decision to bring in Llorente for Sissoko finally paid off as he, Llorente nodded home the crucial goal in the 73rd minute, making the scoreline 4-3 in Spurs' favor. Needing 1 more goal to reach the last 4, Guardiola sent Leroy Sane onto the field, at the clock tucked away, City got what looked to be the winning goal through Sterling, but the goal was chopped off after VAR check, Aguero was found to be in an offside position in the build-up to the goal. 4-3 the match ended on the night to City, but Spurs scaled through on a 4-4 aggregate scoreline, having scored 3 away goals.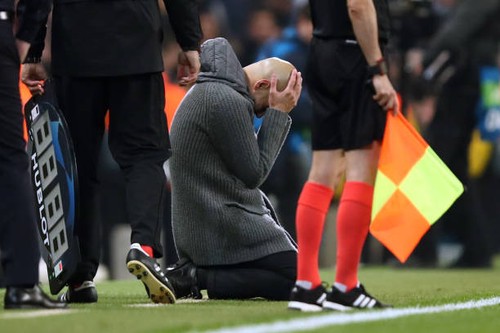 Guardiola's dream of a quadruple was shattered by a spirited Tottenham Hotspur, as he was seen after the final whistle with his head in his hands. Spurs will now face a tricky test against giant-killing Ajax Amsterdam in one of the semifinal ties.
---
Liverpool was expected to come up on top in the 2-leg tie against FC Porto, they sure took a giant step towards achieving that with a comfortable 2 nil home victory in the 1st leg. They head into the 2nd leg away at Porto's turf brimming in confidence from the weekend's league victory over Chelsea, plus the fact that the Estadio do Dragao, Porto's home ground was a good hunting ground for Liverpool, it could be recalled that Liverpool trashed Porto 5 nil right there at their own ground, in 1 of the round of 16 ties of the UCL last season, and have not lost to Porto in their last 7 European meetings(Win 4, Draw 3, Lost 0).
Porto meanwhile will draw encouragement from Liverpool's away form in this season competition, Liverpool lost all their 3 away matches in the group stage, including a 2 nil lost to Red Star Belgrade of Serbia, the only away win was against Bayern Munich. Porto also is the only team in this season competition with the perfect home record, winning all 4 home games so far, they sure have every reason to be confident.
The match started slowly, but gradually grew in tempo, Porto asking a couple of question from Liverpool, but with no real threat. On the 26th minute, Liverpool had their breakthrough goal, Sadio Mane outstretching leg poked home Mo Salah's attempt on goal. The scrappy 1st half ended with Liverpool going into the break with a lone goal advantage and a 3 nil aggregate scoreline.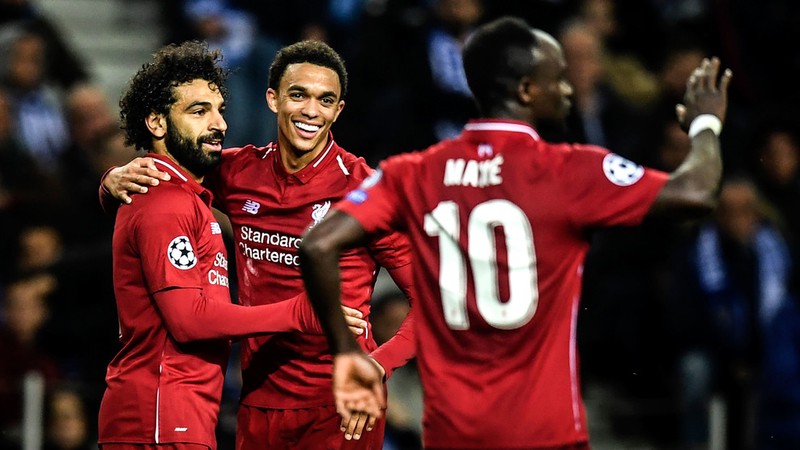 The 2nd half started much the same as the 1st, Porto huffing and puffing but with to real threat at Liverpool's goal. Liverpool patiently waited for the right moment and pounced, Trent Alex-Arnold released Mo Salah through on goal, and he coolly tucked away for the 2nd goal in the 67th minute. Porto finally got their goal in the 69th minute through Eder Militao, but it turned out to be only a consolation goal as Liverpool's substitute, Firmino, scored Liverpool's 3rd a few minutes after coming on. It was all Liverpool from then on, Virgil Van Dijk also got in on the act by getting a goal to pull Liverpool further away. A 2nd successive mauling of Porto by Liverpool at the Estadio Do Dragao, 4-1 it ended to Liverpool on the night, and 6-1 on aggregates.
Liverpool will now play Spanish giants, Barcelona in the semifinal, a mouthwatering encounter over 2 legs. The road to Madrid now gets even clearer. Is it going to be an all English Club Final or No-English Club final? Time will tell.
Thank you all for your time as always