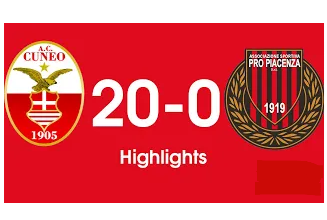 Just when you thought you have seen it all, then BOOM! it is starring right into your face all over again. 10-0 scoreline is embarrassing, but even worse is a 20-0 scoreline, which can be damaging to any leagues competitiveness. Soccer fans are still trying to wrap their head around a 10-0 scoreline in modern pro leagues, then came another 20-0 scoreline. A certain Serie C club, Pro Piacenza was pummeled 20-0 by their Serie C opponent, AC Cuneo, in a rather unfortunate fashion. One begins to wonder if it was a soccer match or a rugby game.
Serie C is the 3rd highest football division in Italia's 9-tier-football division, and it includes 59 teams/clubs divided into 3 groups of 20:20:19 (Grp A: Grp B: Grp C) respectively. Both AC Cuneo and Pro Piacenza are in Group A of Serie C, and both also sit in the bottom half of the league table, While Cuneo sits on 13th position, it is ever relegation battle for Pro Piacenza who sits rock bottom on the league table.
Pro Piacenza, also known as the Rossoneri found themselves making the headlines for all the wrong reasons. It was a mess that started way back last year, 2018, and remained unresolved till the present day. Players went on strike action over months of unpaid wages prior to a league fixture against log leaders, Pro Vercelli, adding insult to Pro Piacenza injury was the local council who sealed up the Rossoneri's rented home stadium, Stadio Garilli over unpaid fees. With all the internal crisis, Pro Piacenza was unable to put together a team for matches, which in effect meant an automatic 3 goals, 3 points conceded. The league rule stipulates that if a team/club failed to turn up for 5 leagues fixtures, such club will be liable to expulsion from the league, in a bid to avoid expulsion, Pro Piacenza rallied a team for the match against AC Cuneo.
With most 1st team players still out on strike, Pro Piacenza turned out against AC Cuneo with just 7 players, a 7-man team that includes 6 teenagers among which an 18-year-old Nicola Cirigliano dua as team captain and team coach, hilarious huh! FIFA rules stipulate that the minimum number with which a team can start/begin a match is 7. So, the Rossoneri had just enough to begin the match against AC Cuneo, a huge mistake on their path.
Pro Piacenza was thrashed 20-0, as AC Cuneo went riot with 7 different scorers. The goals started raining down as early as the 3rd minute, and by half time, it was 16 nil, 4 more goals at the restart condemn Pro Piacenza to a humiliating defeat.
See highlight below;
Cuneo Goal Scorers :
Hicham Kanis-6 goals (8', 10', 17', 30', 32', & 36')
Edoardi Defendi-5 goals (3', 4', 16', 20', & 22')
Francesco De Stefano-3 goals (15', 31', & 84')
Michele Emmansso-3 goals (38', 44', & 89')
Guiseppe Caso-1 goal (24')
Francesco Ferrieri-1 goal (58')
Nicola Alvaro-1 goal (78')
AC Cuneo who had only scored 18 goals in their previous 24 league matches, now double their seasons tally in just 1 match.
After the match, a worried and disappointed President of the Italian Football Federation described the result as;
insult to the sport,...Our responsibility is to protect the passion of the fans, healthy entrepreneurs and credibility of our championships,...The one we unfortunately witnessed will be the last farce.
Now, CD Nacional who lost 0-10 a couple of weeks ago and her fans can breathe a sigh of relief, a much-needed respite at a point in need. Conceding 10 goals apparently is not the worst scoreline anymore.
Do you think scorelines such as 10-0, 20-0 at any league division is good for football?
Thank you all as usual for your support.