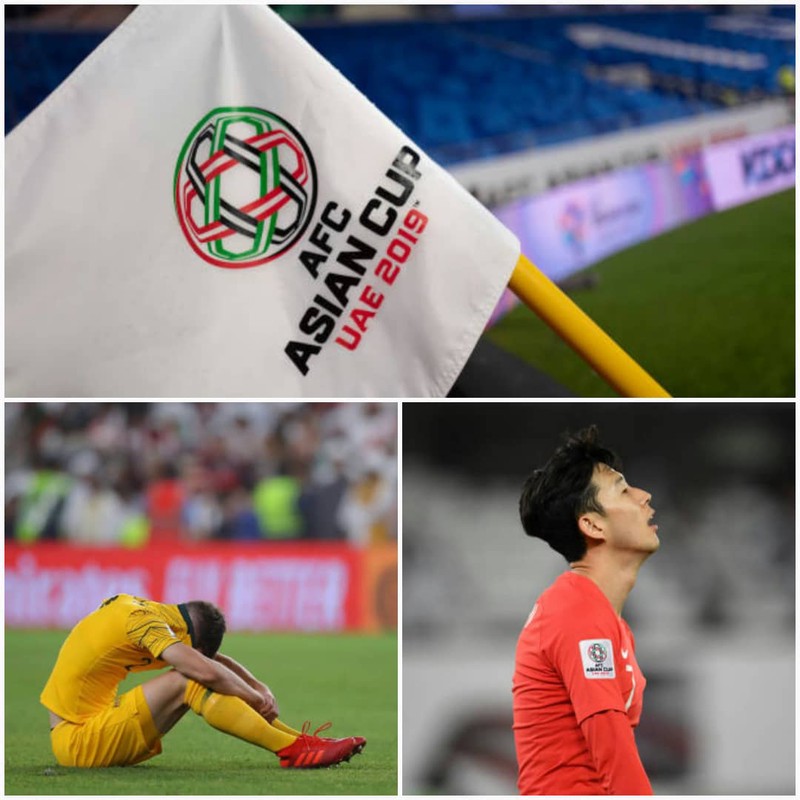 The Asian Cup, UAE 2019 has now reached the semi-finals, and among the teams that were eliminated included the defending champion, Australia, pre-tournament favorite, South Korea, China and Vietnam, and their conquerors includes the Host, UAE, Qatar, Iran, and a new favorite, Japan.
---
Vietnam 0-1 Japan: The 1st quarter-final match saw the former 4-time winner, Japan squared it up with tournament surprise team, Vietnam. Playing at this stage for the 1st time ever, Vietnam had nothing to lose, Japan, on the other hand, was the favourite to progress from the match, and it was supposed to be a walk in the wood for Japan, but it seems there is no such thing as easy match in football anymore. It took a dramatic 2nd half penalty before Japan could break down a dogged Vietnam. Japan was given a lifeline by the VAR in the 57th minute after the center referee had initially dismissed Japans call for a foul in the 18-yard box on Maya Yoshida, but reversed his decision and awarded a spot-kick after a VAR review. Ritsu Doan scored the spot-kick to edge Vietnam 1 nil. Vietnam could have earned the 89th-minute equalizer but Nguyen Cong Phuong blasted the ball over from an unmarked position. Japan now faces a stern test against a former 3-time winner, Iran in the semi-final.
---
China 0-3 Iran: Iran proved their Asian heavyweights status by easily dispatching China 3 nil in the 2nd quarter-final match. The Carlos Queiroz tutored side came into the match with a mean defense, having not conceded a single goal so far in the tournament, and had scored a respectable 9 goals in the 4 matches they have played, while their opponents shaky defense was in question, China had conceded 4 goals in their 4 matches played so far and scored 7, Iran duly obliged, and exploited the Chinese weak defense. The Marcelo Lippi side, China were out-muscled and out-classed by the Iranians. Iran open the scores in the 18th-minute when Iranian striker, Mehdi Taremi was afforded too much space and time in the box by Chinese defenders to tucked home, 22 minutes later, it was 2 nil, Chinese defense went to sleep again as a long ball over the top found Iranian's Sardar Azmoun who rounded the goalkeeper, Yan Junling to slot home the 2nd goal, then, a stoppage-time Iranian through ball sent Karim Ansarifard clear to score the 3rd goal. China's long search for the 1st Asian Cup title still continues while Iran advanced to the semi-final for the 1st time since the year 2004.
---
South Korea 0-1 Qatar: Qatar showed the rest of the world how much they are progressing and battle ready for the next FIFA world cup which they host in 2022, by defeating pre-tournament favorite, South Korea 1 nil in the quarter-final. Qatar has shown so far in the tournament that they are a force to reckon with, having scored 11 goals in their 4 matches played and conceded none, yet they were not expected to defeat a strong force like the South Koreans. The former 2-time winner, South Korea, led by Tottenham Hotspur's Son Heung-Min, were searching for their 1st title since their last in 1960 and were highly favored to lift the UAE trophy were sent packing by a determined Qatar side. The oil-rich nation has not enjoyed a whole lot of support all-tournament due to the political tension between them and host UAE, Saudi Arabia, and some other neighboring Nations, but that did not deter Qatar from some commendable performances, and surely a big win over South Korea. It was a match with few chances created as both teams canceled each other out in front of a crowd of just below 14000 at the Zayed Sports City. The deciding goal came on the 78th minutes from the left foot of Qatar's Abdulaziz Hatem, a long-range effort from outside the box that ended Korea's title hope. South Korea now failed to reach the semi-final for the 1st time since the 2004 tournament and 59 years long wait for Asian Cup win continues while Qatar head into the semis as the 2nd team after Iran not to have conceded a goal after 5 matches and will now engage with the UAE in a potentially politically charged semi-final match.
---
UAE 1-0 Australia: The defending champion, Australia's quest/hope to retain her title were dashed by a spirited host, UAE. The host had had a decent run-up to this stage, having won 2 and drew 2, scoring 7 goals and conceded 4 of their 4 matches played prior to the quarter-final match against the Socceroos. With the crowd playing the 12th player role tremendously, UAE fancied their chance against an Australian team that were not at their best in the tournament, Australia recovered from a 1st group match defeat to Jordan to win their next 3, with their 3rd and round of 16 match win came in a 4-2 shoot-out victory over minnows Uzbekistan, seems the Socceroos missed their talismanic leader, Tim Cahill who had since retired after last years summer world cup. Australian defeat was their own making though, a weak back pass from Milos Degenek was intercepted by UAE's Ali Mabkhout, who rounded up the Australian goalkeeper, Matt Ryan before slitting into an empty net, Australians felt hard done by, having seen Milos Degenek fouled in the build-up to UAE's goal, all their protest fell into the deaf ears of the center referee. The host started with intent, with a 1st-minutes long-range attempt by Ismail Al Hammadi which was dealt with by Matt Ryan, Al Hammadi called Matt Ryan to action again in the 19th minutes. Australia had chances of their own too with Trent Sainsbury's looping header and Apostolos Giannou shot called UAE's goalkeeper, Khalid Essa to smart saves too, and even had the ball at the back of the UAE net, but was ruled offside. And so, the 68th-minute UAE goal decided the contest, UAE had successfully avenged their semi-final loss to Australia 4 years ago.
---
The semi-final line-up;

Iran vs Japan,

Qatar vs UAE,

will be played on Monday 28th, January, will be played on Monday 28th, January, you can catch up the results and highlights on AFC ASIAN CUP, UAE 2019.
Thank you all for your usual supports.