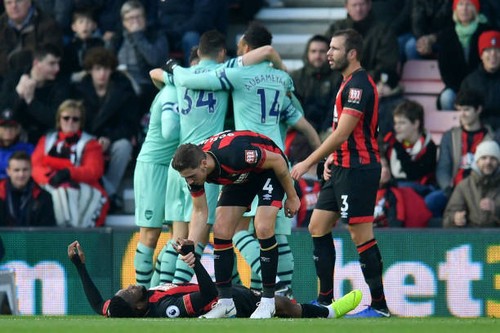 Every soccer/football player find so much joy and delight in scoring goals against their opponent, regardless of whether forward players, defensive players or even goalkeepers, the wild celebrations after every goal scored explains it all. Having said that, scoring into one's own goal post brings as much as agony and despair, especially if such own goal cost your team victory. Such is the story of Bournemouth's Colombian international midfielder Jefferson Lerma on Sunday afternoon 25th Nov.
Check the highlights below;
It was an English Premier League match between Bournemouth and Arsenal FC at the Vitality stadium, a matchup that saw the away side Arsenal claimed victory over Bournemouth, thanks to Lerma's 30 minutes first time volley from edge of his own 18 yard box into his own net/goal post that put Arsenal on path of victory.
The host fought relentlessly, even Lerma at some point rattled Arsenal crossbar to atone for his mistake, and on the stroke of half-time got their deservedly equalizer when Josh King delightfully curled into Arsenal's net.
Hey folks, this is the weekly Happy Moanday contest by @pete, you should be part of it, check the link.
If the first half was close, the second half was even closer, looks like the match was heading to a stalemate when the away side managed a combination of passes, Arsenal's Alex Iwobi and Sead Kolasinac combined well and the latter squared to Aubameyang to slide home for Arsenal's winner.
The home side, like it was in the first half prowled and probed for an equalizer, but the combinations of the woodwork, Arsenals goalkeeper and a dogged defense prevented them.
My take on the match
Arsenals Unai Emery opted for 3-man central defenders, fully aware of the threat Bournemouth pose, a tactical change that paid off, as the extra man in the defense helped kept Bournemouth at bay.
This lost to Arsenal was the 3rd straight defeats by Eddie Howe's team, a couple of 1-2 loses to Manchester United, Newcastle United and now Arsenal FC. I think putting a 2-1 scoreline on Bournemouth matches could be a bet banker these days.
So, cheer up Jefferson Lerma, it is fate, accept it, remember the old wise saying;

We must accept finite disappointment, but never lose infinite hope - Martin Luther King, Jr.
there are plenty matches to play yet, so you can atone for your mistake, you can as well talk to your manager for a change of position, maybe into a striker, that goal was one beauty of a goal.
Thank you all for taking time out to check the post out.