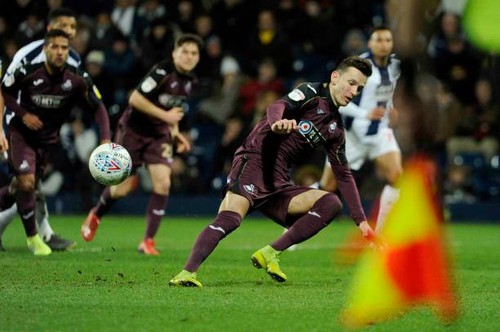 Football had seen great spot-kicks, such as 'the Panenka kick', made even more popular by the likes of French icon, Zinedine Zidane, Italian legend, Andreas Pirlo, even defenders such as Sergio Ramos had done the Panenka spot-kicks, However, there are awful spot-kicks too, who will forget Italian Simone Zaza bizarre, mazy run up to a spot-kick against Germany in Euro 2016, the David Beckham spot-kick that went up into the sky in a Euro 2004 qualifier, the hilarious Henry-Pires failed spot-kick against Man City, the list goes on. Despite the long list, Bersant Celina spot-kick on Wednesday 13th will find it's way up to the top of the worst spot-kick ever. This is an unfortunate spot-kick that caused Celina's team a come-back result in the English Championship tie on Wednesday.
It is another Happy Moanday contest, a @pete initiative, everybody is welcome to be part of it.
4th place on the Championship log table and promotion hopeful, West Brom hosted 15th place Swansea City in a midweek tie, and the match ended in favour of the home side 3-0. However, the real talking point of the match was the missed spot-kick by Swansea's Bersant Celina 5 minutes from the interval.
West Brom is seeking a 1st win since the sack of manager, Darren Moore, and what a way to respond by the Baggies. Caretaker manager, Jimny Shan recalled captain, Chris Brunt into his team, and the Northern Ireland winger duly justified his inclusion in the starting lineup. The Baggies took a 19th-minute lead through Brunt's free-kick, but Swansea City was given a way back into the match in the 40th minute when City skipper Mike Van Der Hoorn was brought down in the box by West Brom's Craig Dawson, with City's top scorer and regular spot-kick taker is still out injured, Bersant Celina stepped up and this happened;
the stand-in spot-kick taker opted for a panenka kick style, and just as he approached the ball, he slipped and ended up miskicking the ball in a bizarre fashion, one kick he won't forget so soon, and his manager agreed with me, he was quoted saying;
It was one of those moments that you don't wish on anybody... It is just a horrible moment that he will have to get over and deal with...It is easy to mock, of course, and I am sure he will get a bit of that, but that is just life - Graham Potter
With Swansea missing their chance to pull level, West Brom pulls further away after the restart, in the 54th minute when Brunt swung in a corner which was timely connected by Mason Holgate, and then, made the game safe with a 3rd goal through striker, Jay Rodriguez in the 85th minute.
So, was it a wicked slip or a panenka gone wrong, either way, it was a stroke of bad luck, one that put Bersant Celina into an unwanted list of bizarre/missed spot-kick.
Like Bersant manager, Graham Potter said, ...that is just life, He just has to deal with it,
it's a minor setback so to say, and the thing about setbacks;
A setback is never a bad experience, just another one of life's lessons - Richard Branson
also,
...Look at the disappointment as lessons don't waste time beating yourself up. Just get back on track and focus on what you want...-Jorge Cruise
Thank you all for your time, have a gleeful day rather than moanday.