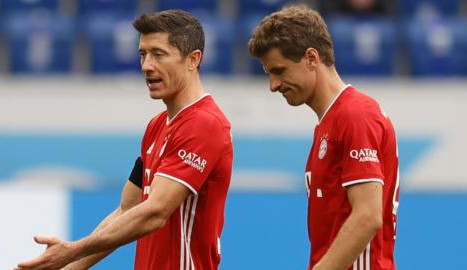 Who will stop Bayern? Give the titles to Bayern already! These were few out of a number of headlines and discussion that has been said concerning Bayern's dominance in recent days. And when Bayern's supposed title rival Borussia Dortmund and RB Leipzig drop points earlier on Saturday, the argument for Bayern's yet another all-conquering campaign gather a little more pace.
However, fast forward to a few hours later and not only Bayern but the footballing community were left bewildered by the shocking defeat in the hands of Hoffenheim. Bayern's 1st defeat in 32 matches in all competitions. Who would have thought? @Betman maybe would have, in his humorous self thinks only the corporates and bankers that sponsors Bayern can stop them.
Bayern might have come into the match licking their lips having seen Dortmund go down 0-2 at Augsburg and Leipzig drew 1-1 at Leverkusen. The champions couldn't be in better confident mood than at the moment, plus their last visit to Hoffenheim ground Rhein-Neckar-Arena was a 6 nil league win. However, the champions were brought down to earth by a less fancied Hoffenheim 4-1.
It was an old fashion back to the wall performance by Hoffenheim who allowed their visitor to have the majority of the ball possession(72%) but stood absolutely resolute guarding their rare. The Bavarians were limited to just 4 shots on target and were out-shot by the home side. 2 goals in either half did the damage on Bayern with Joshua Kimmick(36') getting their consolation goal. Ermin Bicakcic(16'), Moanes Dabour(24') and Andrej Kramaric(77', 90+2' PEN) getting Hoffenheim's goals.
Definitely a reality check for Bayern Munich. Now they know they won't be invincible. And with the rest of Europe keeping tabs on them, they have got to have contingency plans. Bayern's focus now is to rally and try to add the German Super Cup to their recent collections.
Who is going to topple Bayern Munich is a question that will be answered at the end of the season and not by a single defeat to Hoffenheim. However, Hoffenheim's win over the Bavarians may have shown that Bayern is indeed stoppable.