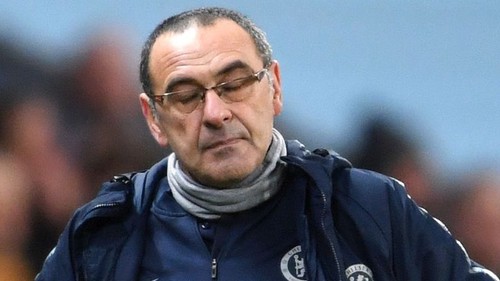 Chelsea manager, Maurizio Sarri may have sealed his fate at the hands of Chelsea owner, Roman Abramovic. The Chelsea owner still hurting from the 0-6 humiliation of his Chelsea club since he assumed ownership, was slapped in the face with another damaging FA cup exit, 0-2 home loss to Manchester United. Victories over FC Malmo in the Europa Cup on Thursday night and EFL Cup final against familiar adversary, Manchester City on Sunday, may not be enough to save Sarri's job, as news making the rounds already suggested that Chelsea chiefs are already considering the duo of former Real Madrid manager, Zinedine Zidane and former home ace, Frank Lampard as Sarri's likely replacement.

Sarri started his reign at the bridge with an early-season-winning run, but things have changed since those remarkable start. So, what went wrong for Sarri and his tactics? How did things get to this stage? He has not even completed a season, and yet, he is about to join the growing names of Chelsea mid-season casualties as shown above;
---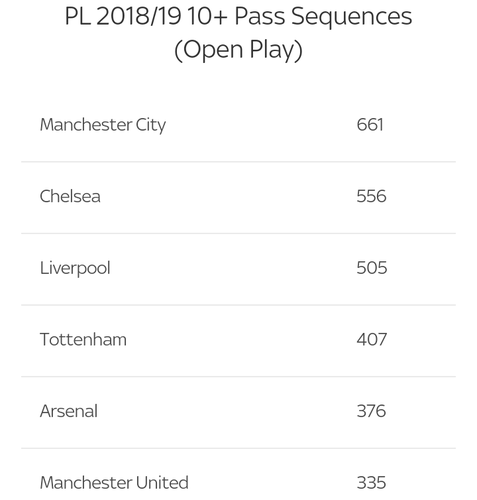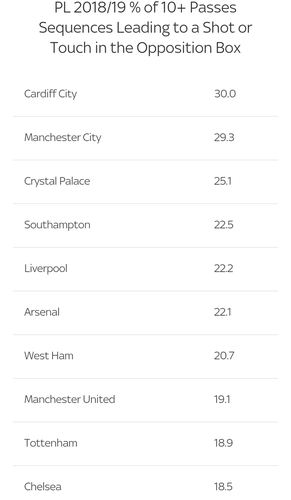 SAME OLD POSSESSIVE PLAY AKA SARRIBALL;
Sarri's possessive play, better known at the Bridge as Sarriball seems not to be bringing the early-season success, and with seemingly no plan B to navigate this hard time. Clubs like Burnley are very difficult to break down by just passing the ball around, you've got to go long and direct if need be to win against difficult teams as such, how many times have we seen Liverpool rescued a result from long balls and setpieces. Chelsea is failing in this direction and the blame has to be Sarri's, who remains adamant on his Sarriball style of play. According to Skysports stat, Chelsea's possessive play is not bringing success or results as much as it does for Manchester City and Liverpool who are also rank high with possessive play, Chelsea's possessive play is not resulting as much as it should into chances created or goal.
JORGINHO OVER KANTE AS MIDFIELD ANCHOR MAN;
Sarri remained defiant playing Jorginho rather than Kante in the holding midfield role despite strings of poor results, raised more question than answers. There is no denial of the fact that Sarri and Jorginho know each other too well from their time at Napoli, and bringing Jorginho to Chelsea seems sensible, but Chelsea already has a world class player in the holding midfield role, Ngolo Kante. Kante's exploits as an anchor-midfield man are well documented, right from his breakthrough season with surprise English Premier League winner, Leicester, to his warrior-like display to help Chelsea win back the League title, and not to forget his 2018 FIFA World cup heroics with France, all as the midfield anchorman. Yet, Sarri favours Jorginho over Kante, even when Jorginho is sometimes out of sorts. Clubs seem to have decoded Sarri's tactics, stop Jorginho and you will stop Chelsea, such were the stories when Chelsea played Westham, Everton, Spurs, Arsenal and Manchester United to mention few.
PREDICTABLE SUBSTITUTIONS;
Sarri's like-for-like substitution is well too predictable, either in victories or in defeats, it is all too similar. Ross Barkley for Mateo Kovacic substitution is growing too popular, the latest duo interchange in the FA Cup defeat to Manchester United was the 20th times in all competitions that both players will be swapped for each other under Maurizio Sarri. Chelsea's other talented midfield players that are being constantly overlooked by Sarri includes the duo of Ruben Loftus-Cheek and enterprising young winger, C. Hudson-Odoi who can both come in and win a match, little wonder some of these lads are refusing a new contract.
Managers are known for being too adamant and defiant with their approach and philosophy, and it has really not helped most of these Coaches and certainly might not help Sarri too. We've seen the likes of Arsene Wenger, who despite widespread calls for him to change his approach, to invest in a weakened Arsenal defence year in, year out, but he refused, and he ultimately paid for his stubbornness, as his long-year affair with Arsenal was brought to a less ceremonial end.
The English Premier League is a tough league, managers have to be dynamic and unpredictable with their tactics and approach, any manager who failed to do that will have himself to blame, other managers will figure him out. It seems to me that Sarri has failed with his tactics, or maybe he just needs more time to perfect his tactics and his Sarriball style.
What do you all think?
Thank you all for your usual supports.