On January 2, 2019, Pulisic signed with Premier League club Chelsea for an estimated £58 million transfer fee.
Most blue fans are excited to see a young talent joining the blues army , Pulisic as performe well in Borussia Dortmund before joining and indeed he's a talent to talk about
One major problem and concern is been having injury all the time since he joined Chelsea , keeping him off the pitch most times
Pulisic as missed a lot of matches giving the head coach ( Frank Lampard ) headache
Below is Christian Pulisic injury records since he joined chelsea :
February 2019: Torn muscle fibre, 16 days out.
March 2019: Torn muscle fibre, 20 days out.
January 2020: Tear in adductor, 75 days out.
August 2020: Hamstring injury, 63 days
Also in early November the young star was down with injury doing the team warm up against an EPL team since then he haven't been on the pitch
Pulisic is reported to be earning£145,000 ($188,000) a week for the duration of his contract with Chelsea, which is set to run until the summer of 2024. He earns approximately £7.5m (just under $10m) every year from his base club contract alone, so his five-year deal with the Blues is worth £37.5m ($49m) in total.
With the outrageous amount he's earning i think Chelsea have to do something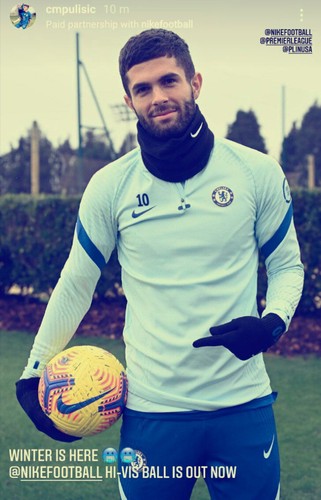 Image source : Pulisic IG page