Welcome to the LFC Final Word. In this series, I provide an in-depth analysis of games from a Liverpool supporter's perspective.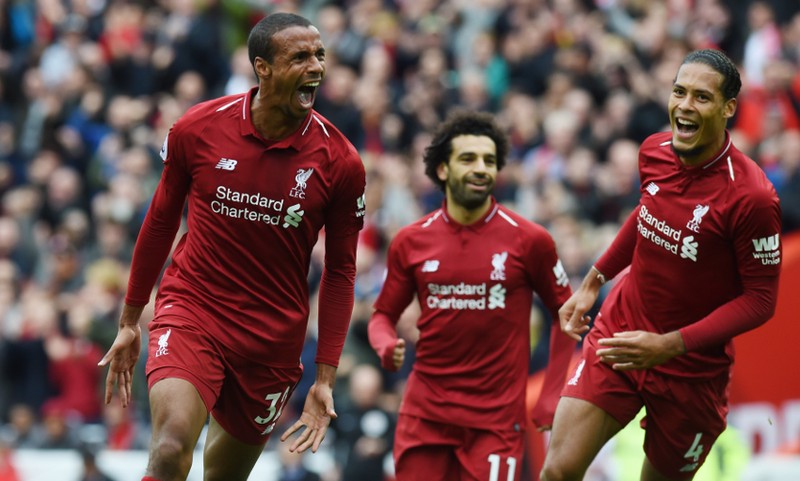 Match Facts
Liverpool vs Southampton
Saturday 22nd September, 15:00
Anfield
Result
Liverpool 3 - 0 Southampton
Goalscorers
Liverpool: W Hoedt (10 OG), J Matip(21), M Salah (45+3)
Teams
Liverpool: Alisson; Alexander-Arnold, Matip, van Dijk, Robertson; Wijnaldum, Henderson. Shaqiri; Salah, Sturridge, Mane
Southampton: McCarthy; Soares, Vestergaard, Hoedt, Bertrand; Romeu, Redmond, Hojbjerg, Lemina, Targett; Long
Used Substitutes
Liverpool: Milner (Shaqiri), Gomez (van Dijk), Wijnaldum (Keita)
Southampton: Armstrong (Romeu), Bednarek (Targett), Austin (Long)
First Half
Following a convincing performance and victory over PSG in midweek, the worry for Liverpool supporters around the world was that it would lead to a dip in form in the Premier League. Taking his chance to rotate a couple of players to keep things fresh, Jurgen Klopp brought in Shaqiri for Milner and Matip for Gomez. With a game against Chelsea in the League Cup on Wednesday, it seemed a wise choice to me.
Although Danny Ings has been transferred permanently from Liverpool to Southampton, he is currently on loan for the first season so was ineligible to play. This came as a relief to me as we've often seen previous players of the club come back to haunt us.
As expected, Liverpool were undeniably in control of the game throughout the first half. Shaqiri managed to put a great cross in for Firmino, whose header went wide of the post. There were some grumblings for a penalty due to a slight push in the back, but the officials didn't seem interested at all.
Shaqiri's corner appeared to be a wasted opportunity until Mane managed to retrieve the ball, feed it back to Shaqiri, who decided to take a shot that deflected a couple of times for an own goal. 1-0 to Liverpool after just 10 minutes and things were looking good.
Further chances in the half included a great turn from Salah at the edge of the box, who then played a lovely one-two with Firmino, but his shot was defended well and went out for a corner. The ball was whipped in and Matip towered above everyone else to get his header away and placed it perfectly into the top left-hand corner. 2-0 to Liverpool.
Firmino played a wonderful long ball from deep in midfield to put Salah through on goal. Fighting off defenders, the ball sadly got stuck beneath his feet, and a cheeky little flick shot went just wide of the post. The final chance of the half arrived when Salah was fouled in a dangerous area. Shaqiri stepped up and fired a rocket of a shot that ricocheted off the bar, but Salah was there to smash the ball into the net to make it 3-0 to the Reds at half-time.
Second Half
The second half was a much more subdued affair with Liverpool content to sit tight and hit Southampton on the break. The Southampton team were abysmal and I would have been fuming if I'd watched my team look so unenthusiastic trying to get back into the game. It spoke volumes to me when Southampton made a substitution at 3-0 down and the player leaving the field took ages to stroll off the pitch. If you're losing, you want to see your players desperate to turn things around, not accept defeat and roll over.
There were only a few chances throughout the half that are worthy of a mention. It seemed Liverpool were playing pinball inside the Southampton box following a great Salah run and pass that bounced around. Milner managed to get a shot away that was saved, but Salah was there to put the ball in the net again, before being flagged for offside.
Southampton did manage one more attempt at goal in added time when Austin was put through, but his shot was easily saved by Alisson, who had hardly anything to do throughout the entire game. No doubt, he'll be feeling great about adding another clean sheet to his debut Premier League record. Other than his glaring error a couple of weeks ago, he's come in and done everything I'd hoped he would.
An honourable mention needs to go to Salah here who has been the centre of criticism from quite a lot of people following a slower start to the season. He still isn't quite firing on all cylinders but another goal today will have given him some confidence going forward. I am wondering if there is still a little issue with his shoulder injury from the Champions League final back in May. Either way, he was all smiles today and it's clear that there is no issue between him and Mane.
Liverpool Player Ratings
Alisson - 7
Trent - 7
van Dijk - 7
Matip - 7
Robertson - 8
Henderson - 7
Wijnaldum - 7
Shaqiri - 8
Mane - 7
Salah - 6
Firmino - 7
Final Word
A rather subdued match after the heights of the midweek Champions League result against PSG, but a very important 3 points that keeps Liverpool sitting nicely at the top of the league.
There are some more difficult games coming up but Liverpool have put themselves in a position to be able to drop a couple of points along the way. If I'm sat here typing about further victories over the coming weeks then the club could be in for a very exciting season. Six league victories in a row are something that can't be ignored and the players will be gaining in confidence as each week comes and goes. This kind of reminds me of the run that Liverpool went on in their last pursuit of the league title a few years ago. It felt like we'd win before the game had even started.
It is clear that clubs are starting to take notice of this Liverpool squad and I thought Southampton looked defeated before a ball had even been kicked today. If Liverpool can continue to build a reputation then the mind games really do start to take their toll on opposition players.
Liverpool will now prepare for a midweek fixture against Chelsea in the League Cup. I expect Klopp to rotate some players to keep things feeling fresh, but I am certain that he won't take the opportunity of a trophy lightly. It will be interesting to see how Chelsea approach this game having also started well in the Premier League. They will be keen to do make up for a lacklustre season last year and have definitely started on the right foot.