This interview for ProstoProSport's project "The Firm" was conducted by Sergey Kuvanzhi on December 30, 2018 and published on January 13, 2019.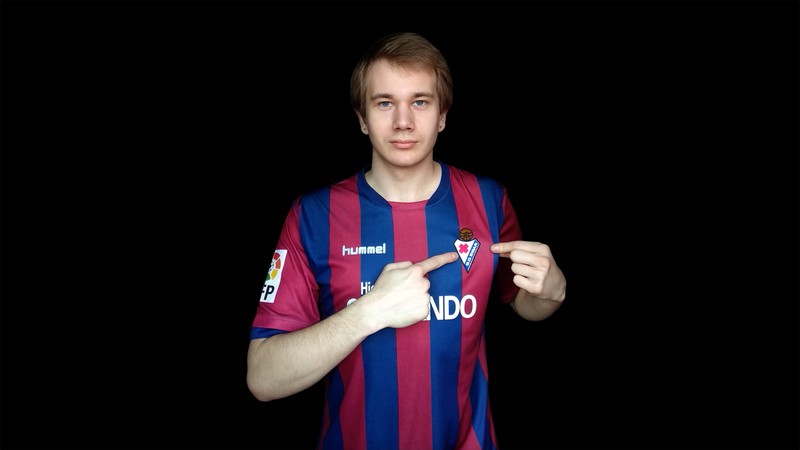 How come you were born in Kurgan, Russia, but are a fan of a football club from the Basque Country?

Initially, it was Spanish football that I fell for, primarily because my guide to that new world had been Raúl González Blanco. I started monitoring La Liga, Real Madrid in particular, during the course of the 2007-08 season. I wrote match results down in a custom-designed notebook, with tables, charts and all that, which sparked my interest in Spanish language, a sort of need for it. Step by step, I learned it on my own to read news and articles on Spanish sports websites, to comprehend interviews. Eventually, I got a little tired of the top flight, yet I didn't want to quit Spanish football altogether. Being fed up with the mainstream, one would like to explore the underground, so I decided to find out more about the second division.
In early 2012 I set up a blog on Sports.ru, it was called "Do not belittle Segunda" (there's a famous Soviet song "Moments" written by Robert Rozhdestvensky, and it's mostly known for the first line "Do not belittle seconds" which kind of rhymed with my blog's name in Russian). By that moment I had already learned that you shouldn't turn up your nose at Segunda and be scornful of it, because the second division can be amazing and breathtaking, too. I also set up a theme-based website as my graduation work to finish the journalism course for applicants at the Kurgan State University. I used a Biblical phrase "So the last shall be first" as a slogan. In my opinion, it perfectly reflects how highly competitive and unpredictable Segunda typically is.
In the summer of 2013 another season started, I entered the university to get a Translation & Interpreting degree and moved to Moscow. I still followed Segunda, and at the moment I was particularly curious about the teams which had just been promoted from the third division, namely Deportivo Alavés, Real Jaén, CD Tenerife and SD Eibar. By the middle of the season it became clear that Eibar was a dark horse. The first months were rather turbulent for them, but in January the team made it to the top three, and soon took the lead. Naturally, I was enthusiastically observing the historical ascent, hoping to understand this phenomenon. Like, wait a minute, how is it possible that the club with the smallest budget in the league that has just returned to Segunda seriously intends to get a consecutive promotion to Primera and, most importantly, is capable of it?
By spring I totally lost the objectiveness of a pundit and began rooting for the guys, not as much for SD Eibar itself as just for the team that could make a splash. After all, we remember how many admiring glances Leicester City attracted and how many hearts they captured. By the way, speaking of glory hunting, personally I don't find catching the wave of success any shameful. It's no crime to become a fan of a club when it keeps winning game after game. What's really important is whether you left after several defeats in a row or stayed. Eibar stumbled and slipped down to the second place, making way for Deportivo de La Coruña, but I still believed they could become champions – and they finally did. I've been a "gunsmith" since then.
I remember this vividly: Jota Peleteiro scores against Deportivo Alavés and brings SD Eibar to the top division of Spanish football. Was he a breath of fresh air that turned your head?

Actually, the whole Eibar team was a breath of fresh air for me, but I have to admit that Jota clearly stood out from the rest. Sometimes I couldn't take my eyes off him throughout a match. The way he moved without the ball, organized the attacks, slipped away from the opponents, all of this was just mesmerising. As for the "golden" goal… On the one hand anyone could have scored it, but on the other hand it doesn't seem a pure coincidence to me that it was Jota who did it. Of course, I was sad when he returned to Brentford FC upon expiration of his loan deal. SD Eibar really lacked such an agile and creative player the following season. In other words, my attitude towards Eibar didn't depend on Jota's presence in the squad. I supported the whole team, but every time this guy came out onto the field, I knew that he would steal the show again.

If Eibar had never been promoted to Primera, how hard would it have been for you to stay actively interested in the club?
There are no what-ifs in football, but I think it would have been hard for a score of reasons. Even though I could have stayed actively interested, it would probably have been complicated, at least media-wise. HDTV transmissions, press coverage, wider audience – when your club is in the top league, you get it all. However, it's worth being patient for the sake of your favorite team. Besides, technology has advanced. And again, I don't hide the fact that I initially became interested in Eibar precisely because a small club got a chance to skyrocket. I had been thrilled with that fantastic scenario, and it was only closer to a happy ending that I had a crush on the leading character.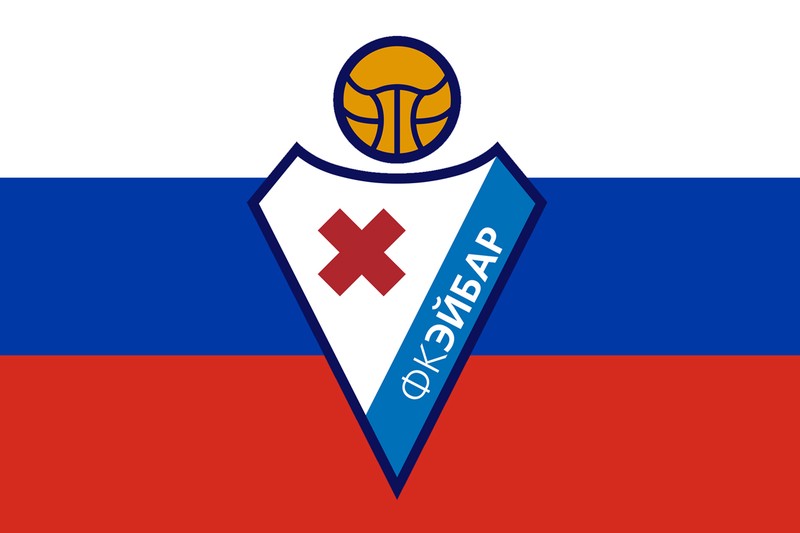 When did you first realize that creating a Russian fan club of SD Eibar is a noble cause for you to pursue?
From the very beginning I wanted to be somehow closer to the club, but I didn't know the way to implement it. Last year I thought: "Alright, there's not much information about SD Eibar in Russian. Who else could and should cover the news but me? People are probably interested in the club as well, but they can't or don't want to translate Spanish articles. Well, I do, and I never mind some language practice". So I set up a Twitter profile and a VK public page. I just wanted to popularize SD Eibar in Russia and was not thinking of creating a fan-club, but as Bulgakov wrote, "never ask anyone for anything, they will make the offer and they will give of their own accord".
And that's how things worked out. The club's representatives noticed my web activity and suggested registering a "peña" – of course, I agreed. My approach is simple: it's silly not to do what you like and what you do best. And if by doing this I can also support my favorite team, even being so far away from it, there is no doubt about it. Understandably, creating a fan club at this stage is a purely symbolic move aimed at promoting the SD Eibar brand in Russia and worldwide. And yet I'm glad to be directly involved in it.
Didn't the task complexity scare you? After all, SD Eibar, frankly speaking, lacks a fan base even in Spain itself, though it's growing rapidly – not to mention such a distant country as Russia.
As we say in Russia, eyes are afraid, but hands are doing the job. In fact, my job is not that hard yet. Essentially, I'm just updating social media profiles in Russian. When I work at SD Eibar, we'll speak about being assigned responsibility and entrusted with a mission. Right now I'm taking it easy, my activity brings me joy, new connections and recognition internationally. For example, last summer I spoke on behalf of our "peña" live on Cadena SER, they wrote about us in Marca and Mundo Deportivo. That's nice.
Overall, the modern history of SD Eibar is built on mutual assistance and dedication, these two factors help reach great heights. I truly believe that a fan club can not simply exist: I, as president, have a certain responsibility. We need to stand out, to grow and develop. I'm lucky that my dad Yury Prozhoga is an artist and a football cartoonist, so the content of our Instagram account is truly unique.
The social factor is very important for me in this story: I met like-minded people from Spain, the USA, Poland, Israel and other countries. We have a chat named "Eibar Global" that connects fans of SD Eibar from all over the world. This is, actually, a global family. There's another chat where heads of fan clubs affiliated with the Federation solve organizational issues.
Thanks to my blog on Sports.ru I met Dmitry Podrubny, a fan of Histon FC from the ninth English division – my love for Eibar doesn't seem that exotic in comparison. So, Dmitry expressed a wise thought in comments: "When you get into this environment, you feel that you're a citizen of the world, and it's very reassuring during these troubled times". When football unites people, serves as an emotional outlet, broadens the mind and breaks stereotypes, it's invigorating and inspiring. That's why I keep the ball rolling.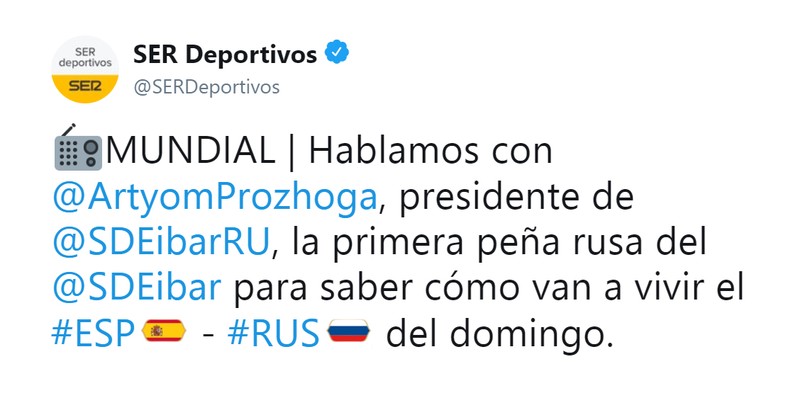 Is there any feedback from SD Eibar? And what does they usually require from an official fan club?
Yes, I regularly correspond with Arrate Fernández, she is responsible for external relations. I'm also in touch with Unai Atretxe, director of communications, and Jon Arregi, former director of SD Eibar Foundation. I'm basically offering the club my services as a representative in Russia, we are considering various options for cooperation. Recently, we've discussed the possible launch of the official website's Russian-language version, the idea has not been rejected, but it has been postponed for the time being, it's just not a top priority item at the moment. It would be nice to verify our Twitter profile and our VK public page, but this is not a fixation. I don't need this to know that the club appreciates my efforts. Arrate expressed her gratitude for my activity in social networks.
As for the requirements, there is a code of conduct. Specifically, the sixth paragraph contains quite obvious prohibitions: it's strictly forbidden to display blatant disregard and contempt towards the club's values, to publish defamatory content discrediting honour and dignity, to incite hatred, violence or discrimination – in general, everything that a sane person, much less a fan, will never do. The club also requires passport data for those who want to join an arranged trip for an away game, but you don't have to provide it just to become a fan club's member.
By the way, how many members are there in SD Eibar Peña Rusa now? Can anyone join it? Is there a positive growth rate indicating that the fan base is increasing?
There are four of us so far. Yes, anyone can join, assuming a soft spot for SD Eibar and abidance by the club's rules and regulations. A "fan" is a strong word, but, judging by comments on social networks and sports websites, there are lots of people in Russia who like Eibar, and their number rises progressively. They are attracted by the club's distinctive character, by the wonderful crowdfunding story, by the ability to overcome hardships. Someone might like the game philosophy and style: the team runs forward no matter what the scoreboard reads, relentlessly pressing any opponent. Alas, this doesn't always lead to positive results. With regard to the playing style, Eibar is a team for reckless romantics; from the perspective of running a business (effective transfer market performance, zero debt, etc.) it's exemplary pragmatic. Everyone can find something of their own.
As you mentioned, in 2014 SD Eibar launched a crowdfunding site where people could buy shares for 50 euros each. Obviously, there was no Russian fan club back then, but you had already been supporting the team. Did you make a contribution to saving the club?
That's right, I had already been following Eibar, but I didn't as the stock value was too high for me at that time. However, the lack of financial resources wasn't the only reason: when the required amount was almost raised, former Eibar players David Silva and Xabi Alonso joined the international campaign. A thought crossed my mind: "It seems the club will be saved without me anyway. One share solves nothing". Now I think differently. Through combined efforts, even little ones, great things are done.
That's why last November, when Real Murcia launched a similar crowdfunding campaign #HazloTuyo to increase capital stock, I bought 50 shares in a heartbeat, even though I had never seen the team playing before. I didn't know players at all, but it doesn't matter: we'll have a moment to get acquainted later, and now the primary goal is to make sure that this provincial club with a rich history can live long and move on without fear of sanctions. As for Eibar, I think I can help the club by other means. Now I have a great platform for this.
Eibar works as an integral unit: president Amaya Gorostiza secures financial stability, sports director Fran Garagarza provides profitable transfer deals, José Luis Mendilibar cultivates a healthy and high-performing team culture. Are they living symbols of the modern SD Eibar?
Yes, they are three strong pillars of the Eibar's corporate sustainability. It's painful to watch what's happening in Lokomotiv Moscow which I support in Russia. The success of Eibar is ensured by their hard teamwork. Naturally, there are disagreements in any group, but in Eibar, unlike Lokomotiv, they don't turn into a civil strife. All the transfer targets are discussed with the head coach at a certain stage, his approval is an essential part of the campaign. The other day Jon Ander Ulazia was named CEO. According to Gorostiza, this appointment contributes to strengthening of the club's organizational structure for accepting new challenges.
Ulazia's first objective is to revise the strategic plan. The club's press release specifies the priorities: to improve communication and interaction with fans, shareholders and season ticket holders; to upgrade the infrastructure of Ipurua and other club's sports facilities; to develop marketing in order to get a large income aside from selling of broadcast and media rights; to promote the Eibar brand internationally. Sounds good. We can only wait and see, maybe over time Ulazia will become the fourth rock-solid pillar of SD Eibar.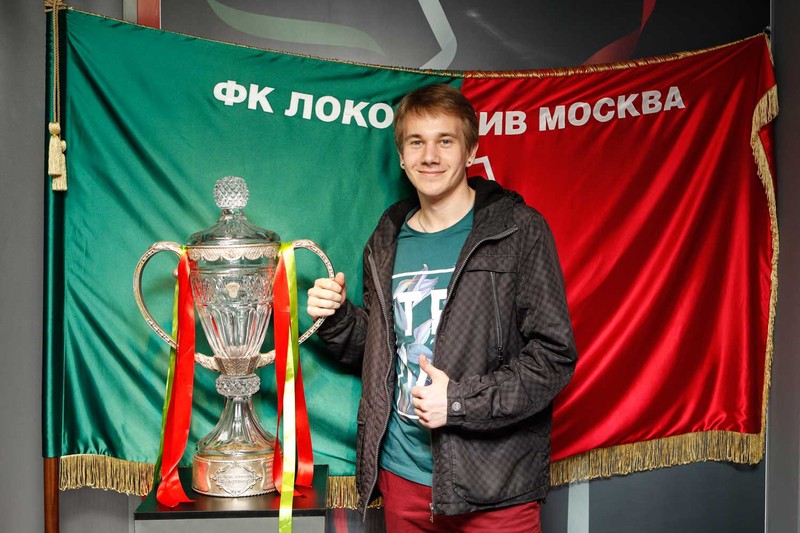 Gorostiza's predecessor was Aranzabal, Garagarza didn't always work at Eibar, too, but Eibar would have never been the way it is without Mendilibar, right? The team didn't play that stunning under Garitano.
I read Gaizka's interview for Panenka magazine where he was asked about his playing style: allegedly, Garitano's Eibar abandoned its classic hyperattacking way of playing and used to build up on its half. Gaizka said that Eibar had been playing at the expense of speed and fitness for many years. The style changed with the arrival of José Amorrortu in 2003 (Garitano was a midfielder at Eibar back then) who brought a combinational style to the club. Interestingly, according to Garitano, this way of playing remained in effect even after the first appointment of Mendilibar in 2004, because Eibar had such a creative player as David Silva.
Garitano believes that any coach has to adapt to the squad and to the league: for example, in Segunda B, Eibar combined more, and in Segunda they rapidly counterattacked, because there were suitable players for this, namely Jota, José Morales, Gilvan. As for the debut season in Primera, Gaizka thinks that team was doomed to be relegated. And yet, if he had to choose the season he is most proud of, he would definitely pick the last one. There are reasonable grounds for this: a team without any experience in the top division got 27 points in the first round.
Then staffing problems began: in the winter break Raul Albentosa left for Derby County, and Raul Navas, another main central defender, was injured much of the second round. As a result, Eibar had to finish the season with a full-back Lillo Castellano and 35-year-old holding midfielder Txema Añibarro as a pair of centre-backs. So Garitano thinks getting 35 points in the debut season in Primera is a great achievement, and I agree. He made the most of that team. And don't get me wrong, I don't mean to detract from Mendilibar's accomplishments and I truly believe Eibar would have never reached such heights without him, but I also think Garitano should be given his credit. He carried out his duties to the best of his ability. A balance of effectiveness and spectacularity is very rare, usually you have to choose. If Eibar under Garitano had played they way they do now, it would have been foolish. I'm really glad that Garitano works in Primera again. Hopefully he will save Athletic from relegation.
You raised an interesting topic. We know several players who had come to Eibar as, basically, no-names, but later were sold to bigger clubs for decent money. Raul Albentosa, Bebé, Ander Capa, Ivan Alejo, Keko Gontán, Florian Lejeune… They brought around 20 million euros into the club's budget. Is a skill for selling profitably another advantage and a source of pride?
Definitely. Unfortunately, it's impossible to always sell profitably, sometimes players leave for free, but the most important is how they helped the club and what they, in return, achieved in it. The recent examples are Dani García and Takashi Inui. Just a couple of years ago nobody could have imagined that an Eibar player would play in the World Cup that soon.
It's also worth remembering how Eibar strengthened the squad before the 2012-13 season. Navas was brought in as a free agent, he couldn't find a team in Segunda B. Ander Capa, who played for the reserve team in Tercera, was promoted at Garitano's direction. These guys helped Eibar get the first promotion to Primera in history. Yes, Dani came and left for free, but he holds the record for appearances, having played 223 matches (followed by Ander with 214 games). Certainly, Eibar is distinguished by their competent work on transfer market, and everyone we mentioned is a living proof of that.
Name the best five Eibar players you've witnessed.
It's not easy to pick out, but nevertheless I chose five players who made the greatest impression on me: Takashi Inui, Jota Peleteiro, Fabian Orellana, Joan Jordán, Gonzalo Escalante. I've already said about Jota's mastery, it's not for nothing that Eibar fans and sports journalists called him "El Mago" ("The Wizard"). However, it seems to me that this nickname is equally applicable to Orellana and Inui. They are also able to work wonders with the ball, to create goalscoring chances out of thin air, to act instantly and unpredictably.
Jordán is a bold universal player who showed an all-new side to his game this season. Due to injuries epidemic Mendilibar had to patch the holes, and Jordan proved himself on several positions: in the midfield, on the right flank and as a "number 10". Escalante is one of the team leaders, an attacking destroyer who can both consolidate the 8th zone and link up with the attack. Thanks to his reliability, Eibar can successfully implement Mendilibar's ideas and play high without fear of missing a counterattack, because Gonza will fend off a threat.
What kind of future do you see for Eibar: a daring La Liga's middleweight or a potential contender for a Europa League qualification? And are there enough resources to stay in Primera for long?
I don't think getting a European spot is a concern for us this season, our priority mission is to avoid relegation. Eibar got 21 points in 17 league games, the fewest comparing to the preceding seasons in Primera. These stats are rather worrying, but I still believe that after the winter break Eibar will gain momentum. There were lots of injuries, our first-choice goalkeeper Marko Dmitrović was ruled out. Another keeper, Yoel Rodríguez, is currently on loan at Real Valladolid, and the board considered it unwise to pay a cancellation fee of around half a million euros. As a result, 35-year-old Asier Riesgo was called up. He's a people person in the team, but, to put it bluntly, he was a reserve and didn't expect to play at all.
Eibar without serious squad problems can qualify for the Europa League. Again, the main task this season is to stay in Primera. Eibar is able to score at least as many points in the remaining games as they already have. Judging by the stats, 42 points are enough to escape relegation. The current 13th place will do for me. If we doesn't lose key players in the summer again, Eibar is capable of getting into the second qualifying round of the Europa League within the next five years. The club has enough financial resources for this, but money doesn't play football, people do. A well-coordinated teamwork of the management, coaching staff and players is needed, as always.
It's important to understand that calling Eibar a small club nowadays is an understatement. Yes, the town's population is small, the stadium is small, but the club, considering its experience and budget, is now a full-fledged member of the top division ready to scale new heights. I have no doubt that things will straighten out, Eibar has everything needed to blossom, they just should work hard and stick to their guns. As Mendilibar said, the team plays well, hence the victories will certainly come.