Norwich FC managed to snatch a defeat one more time in this crucial, crucial match against Everton. At Carrow Road, Everton walked away with full three points courtesy to Michael Keane's solitary goal 10 minutes after the start of the second half. It was 1-0 and I am still in disbelief that we managed to throw away the last chance we had to get back us on track to avoid relegation.
I never thought it would be easy for Norwich FC but then I was also not expecting Norwich FC to not score a goal at home. May be @talesfrmthecrypt was right in saying Norwich FC has a history of performing well in front of a fully packed home stadium. Is it because we don't have the fan support or is it the team's defeated mindset?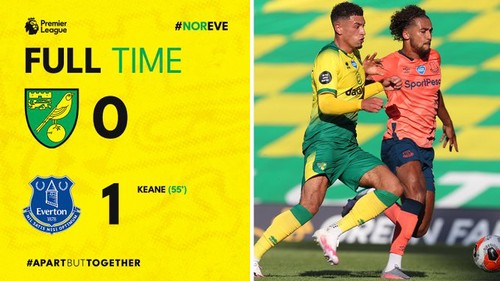 Did you notice the time Norwich conceded a goal today and in the game against Southampton? It was right after the start of the second half. It shows the lack of concentration and defensive lapse. Last time, it was a terrible mishap in the back and in this game, it was a poor man marking by the defence.
Norwich never looked like they could score against Everton. There were half chances in the first half but, to be honest, the game was boring until half time. Farke decided to rest Pukki and Buendia and they did not start the game until late in the second half. They made few good moves in the second half after they came in but it was not enough to save a point.
BBC wrote after the post match interview with Daniel Farke,
It is "not realistic" to expect Norwich to avoid relegation with seven games remaining, but promises he and his players will not stop fighting.
I don't even know how to respond other than saying we are out of ideas and creativity. We managed to throw away two home games where we could have saved 2 points. May be its better to reflect on the team's defensive approach going forward but that will be too little too late.
Everton moved to 10th after this win with 41 points and Norwich are almost certain to relegate with 21 points from 31 games. Norwich will play Arsenal next at the Emirates stadium and Norwich FC fans' woes will continue.