Norwich fans already knew that they would be cheering for their team in the Championship when the team lost to Brighton by a solitary goal. The game against Watford was for pride and professionalism. A win here would have shown how resilient this team is and how they have set their mindset in the brink of relegation. This game was never for survival but to that footballing instinct every professional football player should be known for.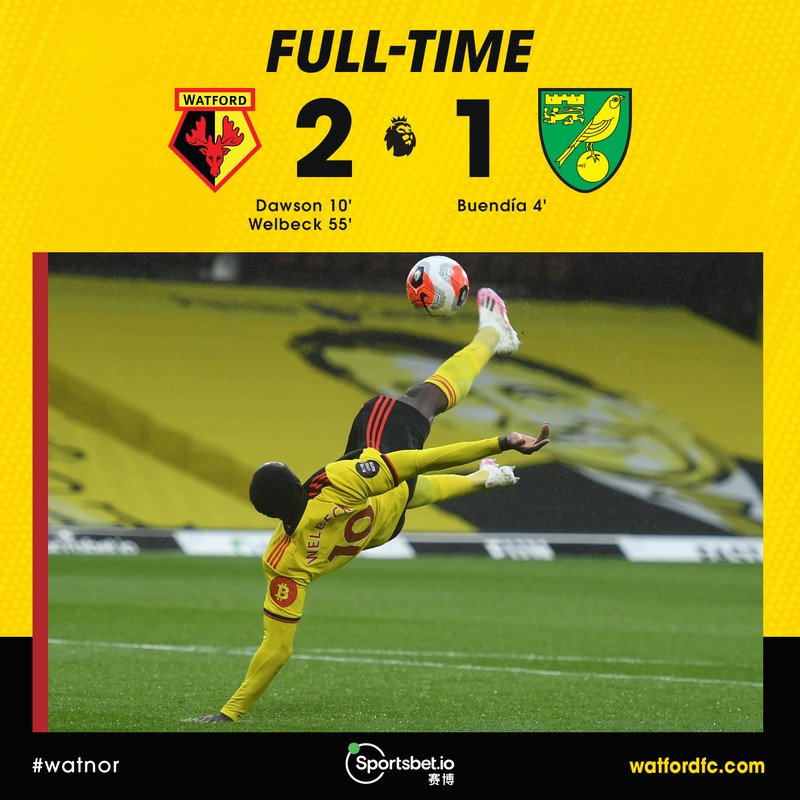 A Wonder Goal from Welbeck
The game for Norwich FC ended in a defeat. Danny Welbeck's superb effort saw the Hornets through and sealed a win after three straight defeats. Norwich are yet to win a point after the restart. The early goal from Buendia was the first goal scored by Norwich after the restart. But that was not enough. Norwich lost the match 2-1 and with that they are one step closer to relegation. For me, it is not about winning or losing at this point. That has been decided a couple of games earlier. I was looking how the team and the manager would react in these remaining games which are not more than dead rubber at this point.
I have to say that the good point was the team scored a goal. It was wonderful to see Buendia score his first goal in the premier league. It was a deja vu moment when Watford levelled the score and it has to be the defensive issue. Norwich were always taunted for their defensive display and it has been a story of the whole season.
Then came the special goal from Danny Welbeck. Norwich could have ended 1-1 draw if the overhead kick from Welbeck was not accurate. Unfortunately, that was a fantastic goal, worthy of a goal of the tournament, which went past Krull into the top left corner. The goal sealed the victory for Watford.
Fans on Twitter
Passionate comments from Norwich fans was all over twitter. Issues like financial backing, strikers not in form, defensive displays are very common and do not have more interpretation. Some fans remain positive and were glad that they at least witnessed a goal from Norwich. In fact, this is a seventh away goal of the season for the team.
It is already time to think about how to strengthen the team to win games in the Championship coz this team does not even have the zeal and capacity to win games anywhere.
Relegation Update
Norwich are now 10 points away from the safety zone and a defeat against West Ham will confirm their relegation. On the other hand, this win was huge for Watford as they are now four points away from the relegation zone.