When it comes to the world of sports, there are often highly controversial and tongue-wagging moments. And more often than not, we do see and get to re-watch or re-live very hilarious and funny sports moments - thanks to videos, youtube and the internet, generally.
Name any sport - And you'd agree that every single sport has certain occurrences that not only exposes the humourous side of the game, but also goes a long way to show that players or sports athletes can be either very human, silly, naughty, or very comical too.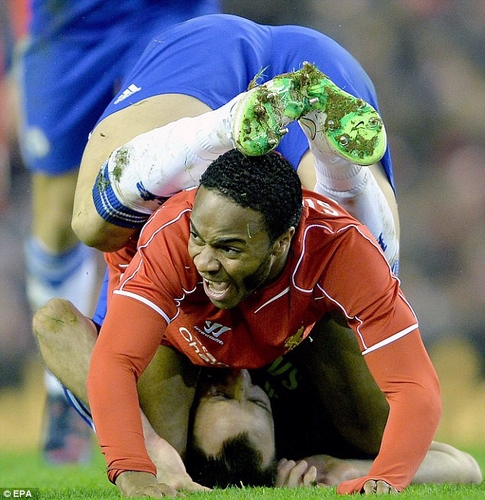 So, in accordance with Tell me a Funny Sports Moment contest which @julienbh came up with just last week, I'd be featuring one particular funny sport moment that never gets old to me. And reason is that, till date, I'm still trying to fathom what was running through the minds of the two players involved in the funny incident.
There are so many funny sport moments for me to choose from; as I have actually seen an incredible and rather ridiculous amount of sporting funny and hilarious moments.....however, in accordance to the rules, and it's initiator @julienbh, I've got to pick just one.

So, for my own Tell me a Funny Sports Moment feature, I have picked the sport of Soccer/Football. And my funny moment of choice involves Chelsea's legendary captain and ex-player John Terry and Raheem Sterling (back when Sterling was of the Liverpool fame).
The incident itself occurred during Chelsea and Liverpool's encounter in 2015, and involves John Terry displaying some form of insane acrobatic which ultimately worked to prevent Raheem Sterling from going past him towards goal.
At first it did seem like both players collided with each other and fell together, especially with John Terry trying to defend Sterling's run. But the hilarious part of the incident was what happened when both players were on the pitch-floor….....
Enough of my description. Please see the incident for yourself in the YOUTUBE video below an do tell what you think (It is a video of less-than 40 seconds)
For details about the Tell me a Funny Sports Moment contest by @julienbh… please visit his blog or click here to support the post, and also participate.
Thanks for reading and watching…lolz.
And now that you've seen my own Funny Sports Moment. What can you say about John Terry and what he was actually doing in that clip? 😀