In the summer of 2011 Manchester City unveiled 4 new signings, Alex Kolarov, Jerome Boateng, Yaya Toure and a diminutive midfielder by the name of David Silva.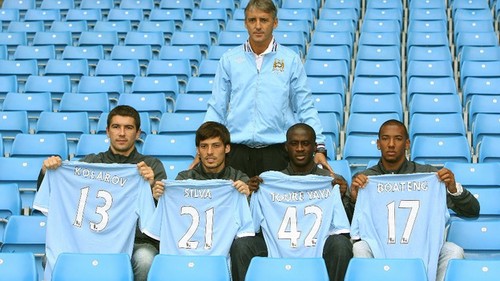 When Silva arrived in England many said he was too small to handle the physical side of the English game, Silva overcame this by out thinking and outmaneuvering his opponents.
Consistently performing at a high level, it is hard to think of a game where he 'went missing'. In 2017 Silva's son Mateo was born extremely premature and he was given permission by the club to take as much leave has he needed or wanted.
In the recent All or Nothing Documentary Guardiola can be seen giving an emotional team talk before City faced Spurs in it he said, "Today you have to win for one reason. We have to win for David Silva and his girlfriend Yessica. He's f****** suffering in life! When you go out there and you enjoy it, you enjoy it for him."
"If we go out there and we suffer, suffer for him. You know the situation. Today you want to win for David Silva and his girlfriend and his family. Is that clear?"
It clearly worked as City won 4-1 with Kevin DeBruyne dedicating his goal to his teammate.
City went on to win the Premier League title in record-breaking style but the Spaniard had returned home to be with his son.
In a video message on Twitter he said: "I want to apologize for not being able to celebrate the title with you today.

"I want to say thank you to the fans, my team-mates, the staff, club and especially to the manager for understanding my situation. You are a top human being, I will be in your debt forever so thank you very much."".
Incredibly his level on the pitch went up, producing one of his best seasons at City, maybe he was more focused on his game as an escape from the hard time his young son was having and football gave him that escape and freedom to perform at his highest intensity.
Today, many City fans say he is the best player ever to wear the famous sky blue shirt, but is Silva viewed the same way by fans of rival clubs?
Since his arrival Silva has won 3 Premier Leagues, 3 League Cups, 1 FA Cup and the Community Shield, add to that the European Championship with Spain and its fair to say its been a great career.
His medal collection which is quite impressive, includes the 2010 World Cup, 2x European Championships (2008,2012)and the Spanish Cup 2008, along with the honours he has won at City, but he still has one ambition left to fulfill, to win the Champions League.
Talking about the Champions League Silva said, "I have been at City for eight years and I have been very happy with what the club has achieved in that time. But there is something missing: the Champions League. It is the only trophy I don't have at home and, of course, I want to win it to complete the set."
"If we win the Champions League in the next two years then after that I could retire and really enjoy my life.
"That isn't to say that I am only thinking of the Champions League. I want to win anything and everything that I am playing for.It doesn't matter if I am playing in the Premier League, the World Cup or FIFA 2018, I want to win."
"If there is a title available then I aim to win it. That will never change. But it is true that the Champions League is very important – both for City and myself."
The consistancy of his performances over 8 years and influence he has had a not only City but on the English game as a whole he has to be right up near the top.
Is David Silva an all-time Premier League great? Without a doubt.