Great emotions are already behind us! Poland vs. Portugal - the last match for Poland in the UEFA Nations League, for now.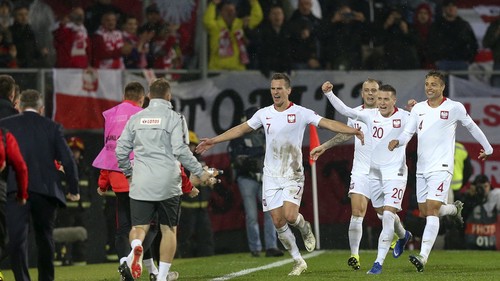 Completed! For Polish team better than you would expect. Although I supported my representatives, but I knew how strong Portugal is. Despite this, I assess the level of the match surprisingly well. For Poles this match means a lot - it builds our morality. Two penalty kicks, in the same point, just as accurately and beautiful. Despite the nervous repetition of the goal, the goal is counted. So in 68 'after a half-hour run, Andre Silva, guaranteed to the Portuguese polish player Arkadiusz Milik - The Polish hero(for today) showed strength and strengthened his position in the eyes, not only Polish fans. Compared to our wonderful Robert Lewandowski, Milik showed that he can concentrate on the goal and give even 200% of himself.
Silva scored the goal as it often happens in sports, after the mistake of Polish player - Klich, he did not help in this action and unfortunately the first half probably ended with a discussion but also a concentration in the cloakroom of Polish team.
This match also resulted in three yellow card on the Polish side: 11 'Cionek, 28' Bednarek, 78 'Frankowski. However, I think that the most important card in this match is in red - 63' Danilo - who is from the team of Portugal. With such a turn of events, the Polish had the opportunity to play 11-10 for half an hour, but the 1-1 result could not be improved.
Controversial will remain the decision of the Russian referee - Sergei Karasiov issued after the first penalty kick, remains obliterated by another great performance of Arwk Milik. This is not the only controversy of this match, which brought a lot of emotions. But both teams can breathe and show at least a moderate ejoy of leveling results 1-1.
Congratulations for both teams. Have a bit rest boys and start analysis tomorrow, what failed today.