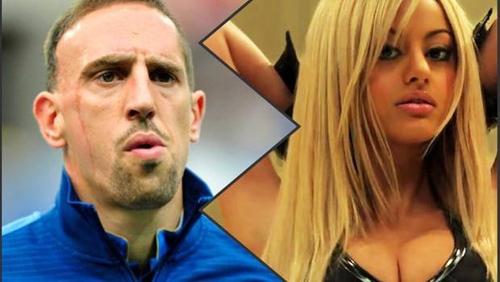 In a sensational interview with Paris Match, Zahia Dehar, the luxury of the French national team, reveals a lot of spicy details about her wild nights with Franck Ribéry, the fallen star of Bayern Munich and French football. For example, 'Scarface' would have paid 1,750 euros for his birthday night to the Moroccan call girl who then also lied about her age and so Ribéry in a difficult parquet brought. Add the plane tickets in first class from Paris to Munich and the luxury suite in a poepchique hotel and then the sum is quickly made: Ribéry had to spend thousands of euros on his nightly adventure...
Birthday Present
Zahia Dehar explains the whole story of 7 April 2009 herself. "I was Ribéry's birthday present"."Franck approached me in a Paris nightclub. He booked me as a call girl and flew me over to Munich to celebrate his 26th birthday. He reserved a suite in a luxury hotel in Munich. We had sex and he paid me. I was a great gift, was not I? "
Started on her 16th
Zahia then looks back at the beginning of her dubious career as a luxury business. "I was 16 years old at the time. My first customer also had sex with me for his birthday. I've always looked older than I was. When I realized that a lot of men were falling on me, I thought to myself that I could take better advantage of that. "
No pimp
"I met all kinds of people from the showbiz and the sports world. They make a proposal and I make myself available. Yet I do not have a pimp. Nobody forces me to prostitute myself. Every time I had sex with men who paid me, I had chosen it myself. If I do not want to, then I just refuse. That's why I call myself a call girl and not a whore. "
The big question is; has Franck Ribéry improved his life.. or is he still see whores?!?
I think he learned his lession from this!!