Hello! Friends,
Will Dani Alves Flourish again in EPL as he has done in Laliga and Bundesliga? The Brazilian star declared he won't return to PSG next season, meaning he is set for another FC. Dani Alves keeps increasing in his record has he recorded another title-winning with his national team when he lifted Copa America this summer. With his engagement with his former club Paris Saint-German and his National team, many EPL coaches have been looking at the possibility of bringing the Brazilian to England and they believe he will perform despite his present age of 36 years.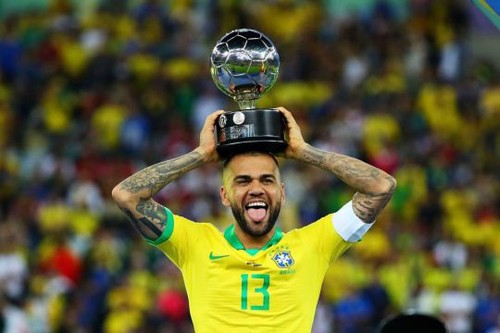 Manchester City, Arsenal, and Tottenham are all having fights on the signing of Alves has they all have an interest in the right-wing defender, especially Guardiola who is seeking for reuniting with Alves again in England. At the moment Arsenal head Coach is making an offer to Alves to show his interest and also Tottenham is in discussion with Alves and the way the discussion is going it may finally end up with Arsenal Football Club signing Alves.
On Alves part, he is ready to stay in Europe following the fact that he has played in Spain, Italy, and France with league titles been won and he did not want to stay in South America at the moment. The desperation is all over Unai Emery just because he is looking for great players with leadership and experience in which he believes Alves can sit in for that position. Again, the budget that Arsenal is working on is based on £45million and they have looked into Alves offer which is very cheap for them. Alves release condition for Arsenal, saying he wants to receive £200,000 weekly as against his £230,000 in PSG.
Why this offer help Arsenal at this moment? What do you think about Alves in Premier League?
Your Comment Is Well Appreciated!