Hello! Soccer fans,
Yesterday was an interesting match between the UEFA Champions League and the UEFA Europa League, Liverpool and Chelsea FC. The Chelsea manager is still trying to secure a win for Chelsea as he lost again Super Cup trophy to Liverpool last night. The match at Istanbul was a great game as Chelsea side cause a lot of problems in Liverpool and it seems Lampard learned from his 4 - 0 defeat encountered at Old Trafford last weekend.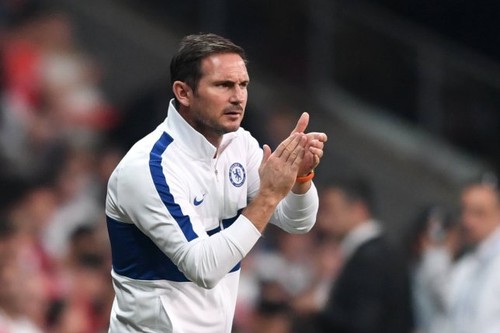 As Frank Lampard and his team returned back to Stamford Bridge there are a lot of lessons Lampard needs to learn from the Super Cup against their next match with Leicester City if indeed he wants victory or better a draw.
Make Giroud his No. 1 Striker!
After the Sunday match against Manchester United, the former Chelsea coach Jose Mourinho pointed out Abrambram that he's too young to be the No. 1 striker for that important game. He mentioned, Giroud would have been better in that position and his suggestion was confirmed as Giroud recorded the opening goal in 36 minutes into the game last night and prove himself the reason Lampard needs to consider him to always start the game. Giroud experience cannot be ruled out of a big game.
It seems like, after 45 minutes, Giroud was lost on the field of play, but he caused a big problem for Virgil and Matip which resulted in better performance from Pedro and Pulistic in Chelsea attack force. Abraham will be a good striker too, but needs more training on his movement, especially in between defenders to stop his "touch the ball and fall".
2. Get Kante More Role To Play In!
In yesterday Super Cup, Kante was standing out, a brilliant game so far from him. Last season was not really cool with him due to the fact that he was opting for his role by the former coach Maurizio Sarri to replace him with Jorginho, who was the midfield anchor for Chelsea last season. Yes, it was a surprise to many of us to see Kante playing a new role yesterday, though Kante tried winning the ball back when getting to the opposition box he's confused to either pass or shoot. This was his drawback last season, but yesterday was totally different and this revealed that Lampard can commit advance role into his hand and he will perform.
3. Christian Pulisic Can Do More!
Lampard two games were to reveal to him some potential he has, Christian Pulisic is one of the future Chelsea have and he has space to fill as Eden Hazard left the team for Real Madrid. Lampard thought about the 20-years old was that it will take a long time for him to mix with the team, but his performance was great last night. It was an excellent performance from him with a Giroud's goal. The problems caused for Liverpool during the Super Cup match was from the left flank, which Christian and Emerson were the players causing the problems.
In Reality
No one is an island of knowledge. The more you look and pay attention the more solution you see coming your way. It seems, Lampard is getting to invest in what he has and the more he position them, the more he sees the solution coming. Learning is an everyday thing if we pay attention to what life is teaching us.
What's Your Thought?