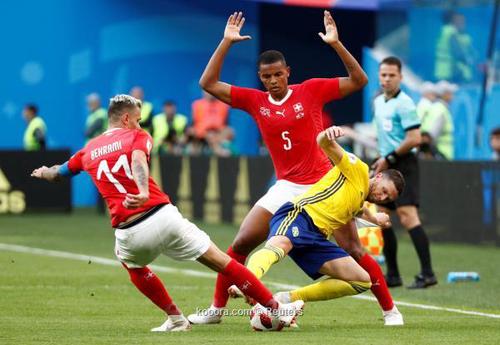 Sweden qualified for the quarter-finals of the World Cup after a tough victory over their Swiss counterpart, a clean goal, in the framework of the World Cup in the 16th round of the World Cup in Russia.
Emile Forsberg scored the only goal of the game in the 66th minute.
The first chance came in the 7th minute when Swiss striker Stephen Zuber, from the edge of the area, easily hit the keeper's hand and Marcus Berg quickly responded with a rebound after several passes deep into the Swiss defense.
Sweden almost scored the goal of the first meeting, in the 8th minute, after a fatal defense error, to hit the ball to Berg, who shot the ball to hit the defenders of Switzerland and went far from the goal.
Berg's attempts continued, and in the 29th minute, the most dangerous chances of the first half hour, after a left-foot shot, the goalkeeper managed to keep it away from his goal.
The 38th minute saw Switzerland's most dangerous chances, after several assists between Zubair and Dzimaili, ended with the ball reaching the latter, who fired a powerful shot into the crossbar.
Sweden responded quickly to the ball of Dzimaili, with a free kick from outside the penalty area, Forsberg shot the ball in the direction of the goal, hitting the defenders of Switzerland and pass by the post.
The players of the two teams, lost opportunities, after Ikdal lost the first goal ball, after a cross from Lustig, Ikdal failed to translate, despite being alone in front of goal, 41 minutes.
Sweden missed the opportunity, and in the 49th minute, Toivonen first missed a goal after a shot from the goal.
66 minutes into the game, after a shot from Emile Forsberg from the edge of the penalty area, saw Manuel Aquanje, defender of Switzerland, hit the net.
Ikdal almost added the second goal after a shot in the 69th minute.
The Swiss team after the goal tried to reach the goal, but the Swedish defense stopped in front of those attacks.
In the 91st minute, Olsen was saved from a Swiss goal by a header that almost made it into the net. The referee awarded Sweden a penalty and Michelle Lang was sent off in the 94th minute but decided to calculate a mistake outside the penalty area after returning to the video technique without undoing the expulsion decision. Sweden 1-0 win.