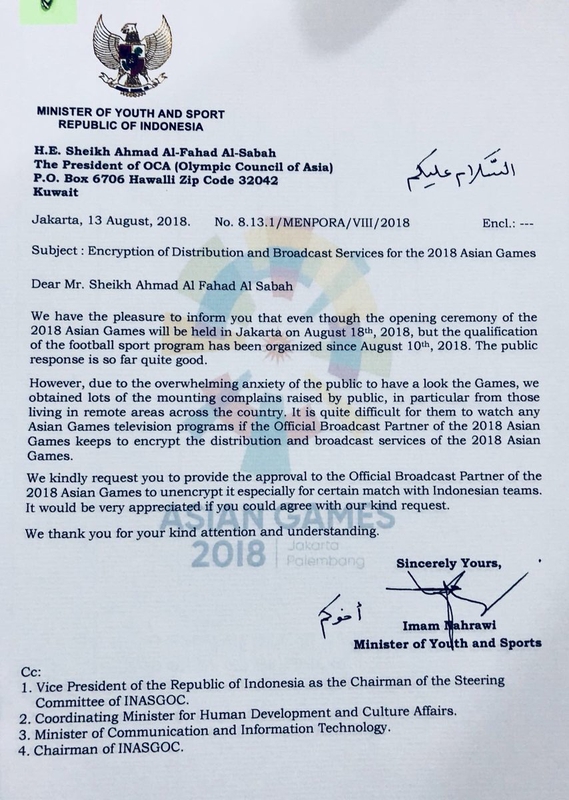 U-23 national team Indonesia will compete against Palestinian U-23 national team in the 2018 Asian Games Group A qualifying match at the Patriot Chandrabhaga Stadium on Wednesday (08/15/2018).
In the first Indonesia U-23 match against Taiwan U-23, Indonesia won 4-0. The match was broadcast on the SCTV Channel.
Unfortunately, the live broadcasts that can usually be enjoyed by the Indonesian people experience signal randomization rules from EMTEK. So that people who use satellite dishes cannot enjoy the excitement of the Indonesia U-23 match.
Many scorns from the public asking SCVT to open public broadcasts like what happened at the U-19 and U-16. On the Twitter page, many tweets reported this incident directly to the Indonesian Minister of Youth and Sports.
Launching the tweet of Imam Imam Nahrowi, Minister of Youth and Sports on August 13, 2018. There is a hope for the people of Indonesia. The Minister has sent a letter to the OCA and requested that the Asian Games match not be encrypted. He also called the EMTEK Group and asked for an explanation of the randomization of the broadcast of the football match at the 2018 Asian Games.
In the match tonight, the Indonesian people still hope that the Indonesian U-23 match can be witnessed by all Indonesian people.
Thank you, Indonesian Minister of Youth and Sports, Imam Nahrowi