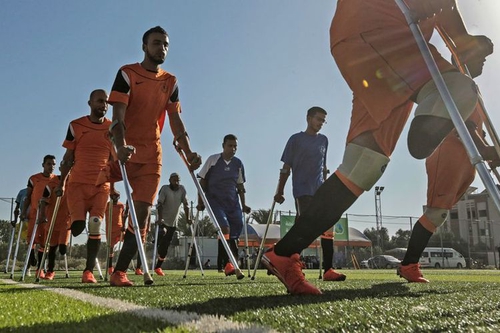 A football team in the town of Deir el-Balah, Gaza, has unusual players. Almost all players have only one leg because they have been amputated due to war. Despite having to wear crutches to walk, they try to keep their move agile and overcome the obstacles.
One of them is the 27-year-old Amum Islam. He who once was a goalkeeper, had to lose one leg due to Israeli air strikes during the Gaza War in 2014.
"Now I can play football again," Amum said.
The team has 15 players, range from 16 to 40 years old. They practice once a week on Monday afternoon.
Mohammed Juifel (21), said they play football to show everyone that disabled people remain part of the community, including in football. Unlike Amum, Juifel lost his right leg due to a car accident when he was 13.
Another team member, Abd Al-Majid (25), has one hand and plays as a goalkeeper. He lost his hand because of an Israeli bomb.
"The training is pretty tough but fun, I feel like a goalkeeper who can really compete," he said.
The team was founded by a member of the Palestinian parliament, who is also the head of the Amputee Football Association, Fuad Abu Ghaliun. The 62-year-old politician admitted that he got the idea to form the football team after watching a football match between the Turkish and British teams last year, in which the players were the amputees.
"Then I thought, I can make dreams come true for hundreds of amputees in Gaza," he said.
Abu Ghaliun called his team a "squad of heroes" and hopes to hold a local disability league that one day can join FIFA.
The coach Khaled Al-Mahbuh said that he always consult to a doctor before practicing and he also learns from online videos. Since its founding, the team has played two games and gathered up to 3,000 spectators.
"The match brought fun and happiness to the public," Mahbuh said.
Abu Ghaliun said that his team is open to other amputees to join, including victims of recent border clashes.
Source: Kompas