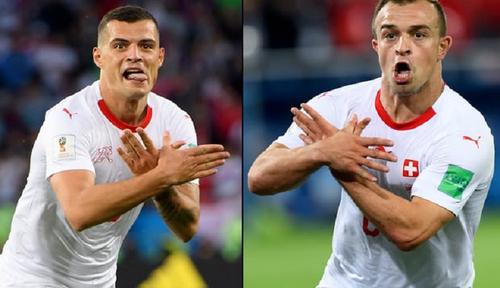 Switzerland's victory over Serbia is important because thanks to it the chances of Vladimir Petkovic's squad to qualify for the next stage is wide open. Despite being left behind by Aleksandar Mitrovic's quick goal, Switzerland saved by Granit Xhaka and Xherdan Shaqiri. Both of them celebrated the goal with the same style: crossed both hands with both thumbs locked together. Both seem to form a double-headed eagle symbol, an eagle on the Albanian flag.
Both Xhaka and Shaqiri are Albanians descendants growing in Switzerland. Both have link with Kosovo. It's not surprising that in the game against Serbia both players were wearing Kosovo-flagged shoes. Kosovo itself is the name of a former provincial region in Serbia, which proclaimed its independence in 2008. Serbia does not recognize Kosovo's independence.
Xhaka's father spent 3.5 years in Yugoslavia prison as political prisoners. His father was arrested while he was a student at the University of Pristina, Kosovo. He was involved in a demonstration against communist government after Josip Broz Tito in Belgrade.
"My father is proud to be a Kosovo and has the idea that their nation has the right to live. He defends their basic rights, one of which is the principle of democracy that everyone is entitled to participate in the general election", Xhaka told the Guardian in November 2017.
The political situation in Kosovo made the region no longer safe. Then in 1990, Xhaka's parents decided to move to Switzerland. There, two male babies were born, Taulant Xhaka was born in 1991 and Granit one year later.
Since their childhood, Xhaka brothers have heard stories about the politics of Yugoslavia from his father. From the story behind the prison to the crime of genocide. Then they draw the conclusion that their father is an extraordinary figure. Granit claimed to be proud and made the father a role model.
"My father showed tremendous strength. Taulant and I grew up with his mental strength. We make him an idol, a role model, who always teaches us that you have to be strong to accomplish something. That is why in the field, we have the mental power to overcome things and really do it", Xhaka added.
The Xhaka brothers owe everything to Switzerland. Thanks to the country's hospitality they can focus on playing football without fear of stepping on land mines. But they still will not forget that Kosovo-Albania has been deeply rooted in them. That's why Taulant prefers to defend the Albanian national team rather than Switzerland.
While Granit Xhaka was born in Switzerland, Xherdan Shaqiri was born in Gjilan, a district in eastern Kosovo. Shaqiri was born from an underprivileged family. Before giving birth to Shaqiri, his mother worked as a janitor, while his father is a farm laborer.
Just like Xhaka's parents, Shaqiri's parents decided to move to Switzerland in 1992 because Kosovo was not conducive to raise a child. As a result Shaqiri has three options of citizenship: Kosovo, Albania, and Switzerland. Shaqiri choose Switzerland through naturalization process.
His father was the first to introduce Shaqiri to football. At that time, he watched the immigrant children kicking the ball. Finally in 1999 when Shaqiri was only nine years old, his father enrolled him in a local club called SV Augst.
Shaqiri was playing for SV Augst until talent scouts from FC Basel were interested in his skill. They then went to his family to get the permission. His father of course agreed. Shaqiri still remembers his father's message every time he faces a major tournament: "do not forget where you came from."
Maybe when he scored a goal against Serbia, the message still ringing in his ear. He realized how difficult his father's life was during his time in Kosovo. Because of political situation that fueled the war. The war then worsen the economy. Food became scarce, farm land became battlefield. During the war, people were dying because of bullet or famine.
"I think of it (celebration) and do not want to talk about it," said Shaqiri after the game against Serbia as reported by ESPN. "In football, you always have emotions. You can see what I do, and it's just an emotional outburst because I'm happy to score. I did it, and we do not have to talk about it."
Unfortunately, FIFA has rules about how to expressing emotions during a celebration. Shaqiri has been charged with a yellow card by the referee for deliberately strip off his shirt during a celebration. But the sentence could be added by FIFA for the gestures that Xhaka and Shaqiri displayed during celebration. It is not impossible that these two Switzerland players will be fined by FIFA if there is proven political message in their celebration.
Vladimir Petkovic as Switzerland coach spoke about their celebration that brought the team to victory. "You should not mix politics with football. You should always show respect. The atmosphere of the game was incredible and a positive experience. Football is supposed to be like that, "said Petkovic as quoted by ESPN.
Source: Pandit Football