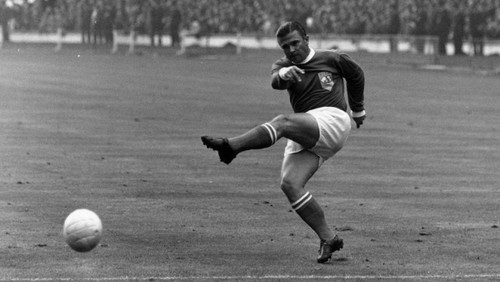 Football and beauty, it's hard to separate those two words. We since long have seen football as a beautiful game, and will continue to see it as one. That's why we then reward the most beautiful goal with an award: Puskas Award.
The name of Puskas Award was taken from Ferenc Puskas, the greatest legendary goalscorer from Hungary. Throughout his career from 1943 to 1966, he played for Budapest Honved and Real Madrid and scored 512 goals in 528 matches.
He was also very productive on international level with 84 goals in 85 matches for Hungary national team. That's a very awesome stats indeed. With his achievements he is considered as Hungarian greatest athlete of the 20th century.
After Puskas died on November 17, 2006 at the age of 79 years due to pneumonia, it was Dr. Istvan Csorba who had the idea to name the world's best goal award after Puskas's name.

With the approval of the Puskas's family, he then suggested to FIFA to name the best goal award Puskas Award. Unfortunately, on October 9, 2009, Dr. Csorba died so he could not see the day when the contract was signed by the FIFA President Sepp Blatter during his visit to Felcut, a village in Hungary.
"It is important to maintain their memories of great footballers who have left their mark in our history. Ferenc Puskas was not only a player with great talent who won many awards, but was also an extraordinary man. FIFA, therefore, is happy to pay tribute by dedicating this award to remember him," Blatter said.
Since then there is a document stating an agreement to give a prize for the most beautiful goal which later known as the Puskas Award. So since 2009, we have Ballon d'Or for the world's best player and Puskas Award for the world's most beautiful goal.
FIFA awarded the 'Goal of the Year' award to scorers, both men and women, who could create goals that: (1) were beautiful goals (subjective between long-distance goals, teamwork, overhead kicks, individual games, etc.), (2) regardless of the importance of competition, gender, and nationality, (3) it does not result from luck, mistakes or the reflection of teammates or opponents, and (4) supporting fair play.

One important thing that we see from this award is the aesthetic point of view and the value of the goal.
We may get bored with Messi and Ronaldo's dominance in Ballon d'Or, but we will never get bored with Puskas Award.
You may see Puskas Award goals winner since 2009-2018 on video below.