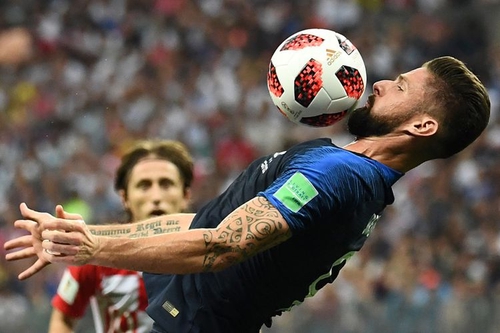 France striker Olivier Giroud said that he doesn't worry about the criticism towards him regarding his goal productivity during the 2018 World Cup.
France national team became World Cup champion after defeating Croatia with a score of 4-2 in the final match of the 2018 World Cup which took place at Luzhniki Stadium on Sunday (15/07/2018).
However, Olivier Giroud was criticized for not being able to create a single goal throughout the 2018 World Cup. But he doesn't care about it.
"I was criticized for not scoring in the World Cup but I got a lot of support from those who saw my work for the team," Giroud told BolaSport at the Luzhniki Stadium.
"Many people want me to score in the final, I say, 'Yes, I will try,'" he said.
Giroud is not too concerned about it. For him, France became world champion and this is much more important.
"If we are a world champions and I don't score, I'm okay with that," Giroud said.
"I always try to work for the team and I know what I can bring to the team and my colleagues. This team is not just 1-2 players but 23 players," he said.
He also said that winning the World Cup was his dream since he was in school.
"My feeling is incredible, to be honest, it's a dream since I was in school," Giroud said.
"It's an honor for me to be a member of this team, we are solid and strong during the World Cup. Yes, I think we deserve to be the champion," he said.
Didier Deschamps also praised the hard work of Giroud. He did not worry about Giroud's goal productivity.
"He is not selfish and never complains and always working hard on the pitch," said Deschamps as quoted from the Independent.
"Thanks to his playing style, he is not only useful in attacking but also in defending," he said.
Source: Kompas