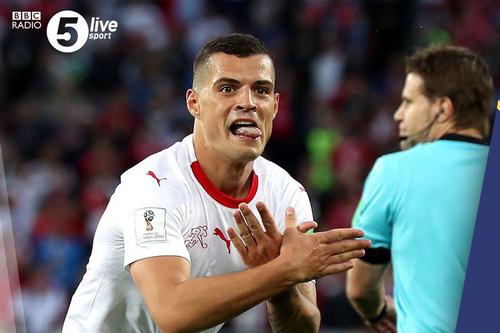 Kosovo government is raising funds to pay FIFA's penalties to Swiss national team players Granit Xhaka, Xherdan Shaqiri and Stephan Lichsteiner.
They were fined for celebrating a goal against Serbia in the 2018 World Cup event by forming a double-headed eagle emblem.
The double-headed eagle is a symbol of the Albanian state, the ethnic majority living in Kosovo.
Since the campaign go online, it has collected nearly 12,000 euros.
This money will be used to pay fine of 8,700 euros for Shaqiri and Xhaka and 5,000 euros for Lichsteiner.
One of the contributors is the Minister of Trade and Industry of Kosovo, Bajram Hasani. He gives 1,500 euros which is his monthly salary.
"These players are punished because they do not want to forget their roots, they do not want to forget where they came from," said Hasani.
Granite Xhaka who plays for Arsenal and Xherdan Shaqiri who plays for Stoke City both have Kosovo roots.
Shaqiri was born in 1991 in Kosovo and left the country with his family when he was one year old and settled in Switzerland.
Meanwhile, Granite Xhaka was born in 1992 in Switzerland but his entire family came from Kosovo.
His brother Taulant Xhaka was in Swiss U-21 national team before he moved to Albanian national team.
The two-headed eagle is a symbol on the national flag of Albania and is considered as a symbol of Kosovo independence from Serbia in 2008.
Source: Kompas
You can also read Behind Xhaka and Shaqiri's Celebration