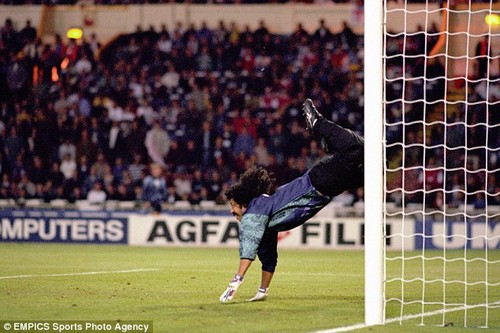 On September 6, 1995, Colombia and England held a friendly match in Wembley Stadium. The final score was England 0 - 0 Colombia. But there was one particular moment that made this game special and remembered until now, Rene Higuita, an eccentric Colombian goalkeeper performed acrobatic action known as scorpion kick.
Higuita was known for his eccentric actions, taking unnecessary risks, and he also often dribbled ball up to the middle of the field alone. Despite being eccentric, Higuita's skill as a goalkeeper was considered top notch.
On the match against England on September 6, 1995, Rene Higuita impressed the audience throughout the match. He blocked many attacks and kept his goal safe. The most remembered moment was when Jamie Redknapp kicked the ball from a long distance, then Higuita performed his legendary scorpion kick.
"I have never seen anything extraordinary like that before, we will not teach our goalkeeper something like that. Let him (Higuita) just do it, because only he is able to do that", said England coach Terry Venables.
As a goalkeeper, he was also good at scoring goals, mostly through dead balls.
His eccentric playing style cost Colombia a match in 1990 World Cup against Cameroon. Higuita dribbled the ball to the middle of the field then Roger Milla, a Cameroon player got the ball and easily scored a goal and eliminated Colombia from the World Cup.
You can watch Higuita's scorpion kick on video below.