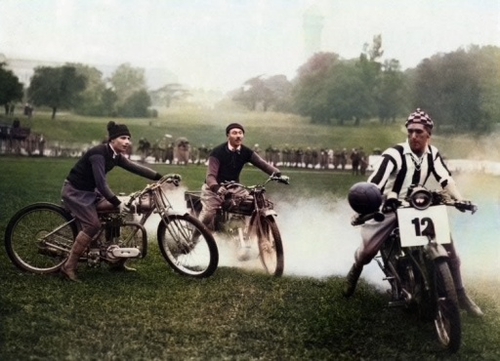 Picture above is colorized version of old photo of men playing football on motorbikes on football pitch of Crystal Palace in London, 1923.
There is no further explanation of this photo, this is also the first time I see such sports. Very interesting.
Below is the original photo in black & white.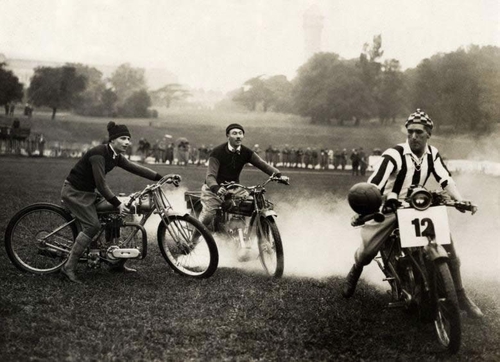 There is a video from British Pathe about this sport being played in 1959.
Below is explanation about the sport from their caption.
This is a motorcycle football match between the Border Motor Club and the North Hants Club. M/S of line of players on motorbikes entering the field. M/S of a judge throwing coin. Two men from the opposite teams are at each side and a huge ball sits in the middle. C/U shot of the ball - it is at least twice the size of a football. Voiceover explains the rules and talks about the game's popularity and its origins.
Referee blows a whistle and the game starts. L/S of the people on motorcycles throwing the ball to each other. It looks really funny - players either kick the ball or use their front tires to get it moving. They drive considerably fast. Audience is standing around the field - people support their teams loudly. Some children can be seen in the audience. Goal looks the same as the football one but without the net. Rules are similar to football so it is fairly simple for the audience to follow the match. Several shots of the game are intercut with shots of the audience. Interesting shot of an elderly man with funny whiskers. Terrain gets muddier as the match progresses but the match goes on. Finally, the result: Border Motor Club wins 3 - 0.
Looks fun, right? What do you think of this sport?