Brazil will play friendly matches against Saudi Arabia and Argentina next month. In the 23-member squad for the tournament, the team's coach called the three Brazilian players.
Barcelona always interested in Brazilian players But the Brazilian Football Confederation (CBF) has always been indifferent to calling several players from the national team. Now the drought is cut. Brazil coach Kate has called up three players in the 23-member squad announced for the friendly match against Saudi Arabia and Argentina.
Brazil will face host to the friendly match in Saudi Arabia on October 12. Four days after Saudi Arabia will face arch-rival Argentine Titatera disciples. Tomorrow, the squad for the two matches announced. In this squad, he called the three Brazilian Filip Kutinho, Arthur Mello and Malcolm for Barca.
The club's teammates have to sweat even to find out that last time Brazil has included three players in the national team. Because it was not about two days ago, the incident happened last 14 years ago.
On September 8, 2004, Brazil played a friendly match against Germany. For that match from Barcelona, ​​Ronaldinho, Huliano Belletti and Edmilson were included in the squad by the Brazil Team Management. Then this time for the first time in the Catalan club, the Brazilian national team got three players together.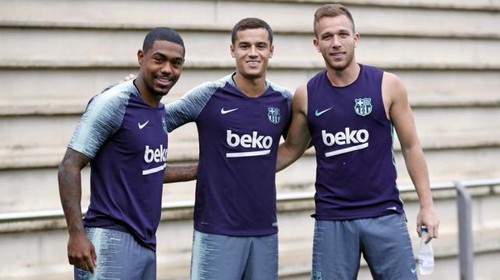 Thiago Silva and Douglas Casta were not included in the squad. Bordo Defender Pablo has got an opportunity to replace Silver in defense. Two-Neymar and Marquinho have been called from the PSG in the 23-member squad of Titas. Earlier, forward Gabriel called on Jesuits, who did not join the friendly match between El Salvador and El Salvador. The Brazilian coach's reasoning, "injury and disorder", as the reason for not getting the chance of getting a chance. The Juventus' forward has been banned from four matches in the Italian League due to spit on the opponent's side in Syria 'A' last week.
Brazil Squad:
Goalkeeper: Alison (Liverpool), Ederson (City of Manchester), Felipe (Gremio). Defender: Alex Sandro (Juventus), Marcelo (Real Madrid), Danilo (City of Manchester), Fahinho (Liverpool), Marquinhos (PSG), Miranda (Inter Milan), Pablo (Bordeaux), Ed Militao (Porto) Midfielders: Arthur (Barcelona), Casemero (Real Madrid), Fred (Manchester United), Philip Kutinho (Barcelona), Renato Agosto (Beijing Guan), Wallace (Hanover) Forwards: Everton (Graemeo), Roberto Fermino (Liverpool), Gabriel Jesús (City of Manchester), Malcolm (Barcelona), Neymar (PSG), Richardson (Everton).
More news