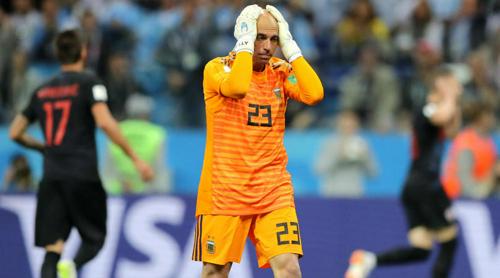 The football season of 2017/18 has seen a lot uf ups and downs but there was one unpleasant consistency, major mistakes of top-tear goalkeepers.
Nobody is safe, as we just saw yesterday at the world cup. The Argentinian keeper Wilfredo "Willy" Caballero made a horrible mistake in the 52` minute which allowed Croatia to take the lead and maybe ended the world cup prematurely for Argentina.
But it gets worse as we witnessed at the highly anticipated champions league final Liverpool FC vs. Real Madrid this year. After a strong season Liverpool was dreaming of again winning the champions league, dreams that where promptly destroyed by there own last man Loris Karius. Following two unforgivable mistakes of their keeper, Liverpool could not recover and lost the game eventually.

But why was Real even in the final although Bayern Munich should have destroyed Real according to the game statistics? You might have guest right - because of another fatal mistake of a goalkeeper, this time Munich's last man Sven "Ule" Ulreich.
After a pass from his own defender Ulreich realized that he wasn´t allowed to pick up the ball. To late to stop and not allowed to pick up the ball up he just decided to do the worst and let the ball through, allowing Benzemar to score an easy goal an opportunity he gratefully took.
Back to the present; after the first major flaw of a goalkeeper and the world cup being far from over we are hoping that the season of goalie mistakes finales has come to an end.