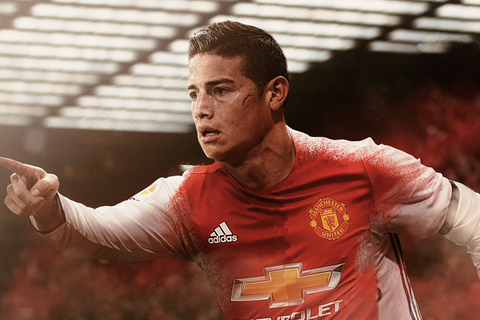 In recent weeks there has been talk of a possible transfer of James Rodriguez to Manchester United, which is around £25,000,000. The Real Madrid player has had a rather disappointing season considering the few minutes he has had on the pitch. His lack of involvement with Los Blancos has increased his chances of leaving the club, as his contract runs out in 2021 and if Real Madrid don't sell him, he will be left as a free agent. But the most important question regarding the Colombian's possible future with the Red Devils is: Can James Rodríguez adapt to Ole Gunnar Solskjær´s scheme?
To arrive at a logical answer, we must analyze the game system implemented by the Norwegian coach and his current formation. Normally Man. United plays with an offensive 4-3-3 using Matic as a CDM, Pogba as a CM and new team star Bruno Fernandes as a CAM. James Rodriguez is a 10 by nature, which allows us to conclude that his position is already occupied by Bruno Fernandes, who is the starting offensive midfielder of the team at the moment and probably the most decisive player. Being a purely offensive player, Rodriguez could not occupy Pogba's or Matic's position.
The only viable option for James to have a leading role in Manchester is for him to play as a right winger and from this position he will go to the middle of the field to partner with Bruno Fernandes. However, Mason Greenwood, one of the rising stars of English football, has established himself in the aforementioned position and is likely to have a far brighter future than the Colombian player, who is already 29 years old and constantly struggling with a sea of injuries.
I think that James Rodriguez would be an interesting signing for the Reds if Bruno were not present in the team at the moment, however he is a very talented player who did not finish exploiting all his talent after being the goal scorer of the World Cup in 2014. James may fit in with many other big name and important European teams, but Manchester United would not be a very smart choice at this point, considering their current scheme and their young promises.
What do you guys think about James joining Manchester United, or where do you want to see him play?