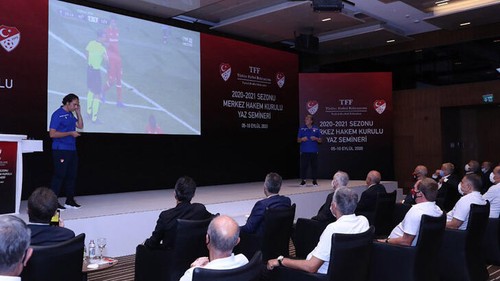 TFF Central Refereeing Board held a top class referee camp at Riva with the participation of 47 referees on January 12-20, where various warnings were made to the referees.
MHK brought up the issue of cards issued especially for standing up. The warnings of MHK, which indicates that every step does not require a card, is as follows:
- Use the card only if the foot is on top of the foot. For example, the foot comes to the tip of the opponent's foot, this is not the card. The closer you are to these types of positions, the better your decision will be.
- There are those who pretend to have their opponent buy a card, we see. There are those who threw themselves to the ground even though there was no hand or elbow in their face. Pay attention to these, do not compromise. Stay close to this type of challenge, filter the position well, and use your cards if necessary.
- Goalkeepers put the ball into the game late to spend time, especially when their teams are ahead. Use your cards as soon as you see this kind of time, never leave it for extra minutes. You felt time was playing out, use your card no matter what minute.
- There are players who force and provoke the referee in Super League matches. Never compromise on these. Watch other matches whenever you get the chance. You will see this type of players. Take your precautions without being biased. Do not hesitate to use your cards if necessary.
- There have been improvements in the technical fields in the last three weeks. Also, never allow sidewards to take actions that undermine the referee's authority.
- VAR issue is also important. Don't get involved in everything, stay in your own space. Never forget that the main responsibility lies with the referee on the field.
Vaccine priority requested
Turkey Football Federation (TFF), the referees and the league found currently ongoing club of the 19 athletes and technical team Kovid vaccine last week to be in written application to the Ministry of Health.
TFF made a second vaccination request for the referees the previous day. The technical delegation and footballers in the clubs will decide themselves whether to be vaccinated or not. The Federation will not oblige clubs in this regard.