Last night we witnessed two penalty shootouts that saw Russia and Croatia advance to the quarterfinals and everyone seems to be impressed with Igor Akinfeev, Danijel Subasic and Kasper Schmeichel. The Russian goalkeeper saved two shots from Koke and Iago Aspas and helped his team stun favorites Spain. Later on Daniel Subasic denied three attempts of the Danes to grant a win to his team. Kasper Schmeichel, who failed to prevent Denmark from losing the game, saved two shots in the shootout and one penalty from Luka Modric in extra time. However, when I saw Leicester City goalkeeper complaining to the referee about the way his counterpart took a shot, I was like: 'What? You tried to save the shot two meters away from goal line and you are complaining about the opponent?' Then I looked at Subasic and saw the same. From that moment I watched goalkeepers rather than kickers or the ball and all I saw was violating the rules every single penalty. Naturally, I was not the only one noticing that infringement. Moreover, Igor Akinfeev did the same wrongdoing earlier on.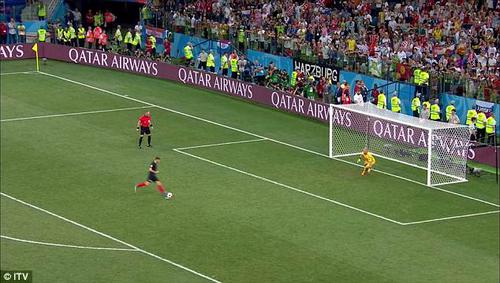 David De Gea was the only goalkeeper who performed to the letter of law and failed to save a single penalty!
So why did the referees never stop goalkeepers from violating the rules?
Well, Law 14 of the official FIFA rules states that the goalkeeper must stay on the goal line between the posts facing the kicker before the shot is taken. However, 15 of 19 penalties!!! saw goalkeepers leave the goal line before the shot. Subasic and Schmeichel were the most blatant cheaters and, naturally, managed to save as many as three and two shots within a shootout.
Graham Poll, former Premier League and FIFA referee, who worked at the 2002 and 2006 World Cups, expressed his opinion on the case:
"A lot of people say that in the Olympics if some athletes are going to take drugs to gain an advantage, then you should allow them all to take drugs. FIFA seem to be applying the same warped logic to goalkeepers at penalties. They allow so many to start behind the goal line and jump forward or start on it and advance that it seems the law is not being applied. I cannot understand how this can be so difficult. VAR has shown us that offside, once almost impossible to interpret, is a black and white matter of fact now. A goalkeeper off his line for a penalty surely must be the same. When 15/19 in shoot-outs have been shown to be off their line it is proof that this law is simply being ignored".
It's hard to add anything to this, but i will never understand why some rules are obeyed and punished, while others are ignored. It's quite disappointing, though, that the only goalkeeper who was not cheating, lost..
photos courtesy of ITV and BBC ONE