The world of football has known the boy with curly hair for a long time. The young Enzo Alvez Vieira could be seen celebrating with him on the field after Marcelo won the title for Real Madrid. The young Enzo is now 12 years old. Playing in the youth team of father's club Real Madrid. Real's Brazilian defender Marcelo is excited about the boy.
If Enzo does something in practice or in a match, it immediately goes through social media through Marcelo. A few days ago, Enzo celebrated like Manchester United's Portuguese forward Cristiano Ronaldo with a goal, Marcelo's excitement about it. Marcelo posted the video on social media. This time a video of him has come up on social media..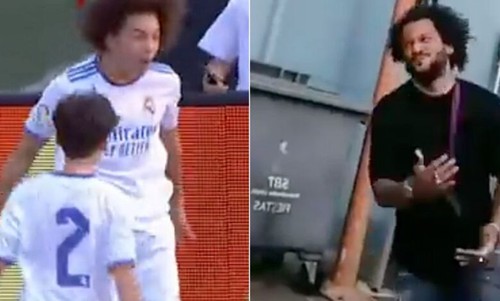 In the Liga Promises, Enzo scored for Real's youth team against Liverpool. Marcelo's celebration after the goal was worth watching. The Real Madrid defender got up from his seat and cheered. At one point during the celebration, she started dancing wildly.
Enzo, however, did not stop there. The 12-year-old enjoyed a pair of goals to beat Liverpool 6-0. Many people think that his future as a footballer is good.