At the start of the season, when the news came that Lionel Messi was going to PSG, all the past records of goals and assists in one season were dusted off. There is a feeling of sniffing about the league in other leagues in Europe. No one counts all the teams except one PSG. Messi is joining PSG in a league that has spread such dominance. His teammates are Neymar, Killian Mbappe and Neymar. So everyone assumed that this time there will be a goal in the league.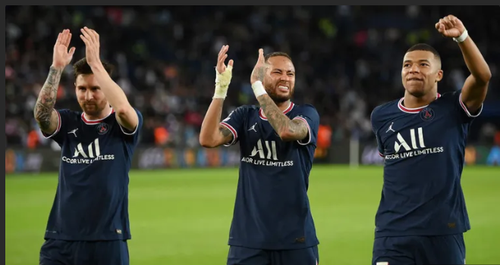 source
At the end of the season, the opposite is happening. Far from being the best player in the league, Messi did not have a place in the top five. Not only Messi, but Neymar also did not have a place in the top five. These two were still lagging behind in personal performance. Meanwhile, Mauricio Pochettino could not win his heart despite his work as a coach. PSG coaches are not in the top five even after winning the league.
Yesterday, the French Players' Union (UNFP) announced the list of nominees for the 2021–22 season. Messi, who scored four goals and scored 13 goals in the league, did not have a place, nor did Neymar who scored 11 goals.
Killian Mbappe was sure to be on the best list. Mbappe, who has scored 24 goals and 17 assists in 32 matches, has won the PSG league. The mop will face Monaco striker Wissam Ben Yader, Marseille midfielder Dimitri Payet, Lyon midfielder Lucas Paketa, and Ren forward Martin Terrier.
Christophe Gala tier of Nice has been nominated as the best coach of the league. The coach, who last won the PSG by beating Lille, is now fifth in the league table with three matches left. This is no less than the last time a team was nominated, it is said to be nominated. Former Argentina coach Jorge Sampa olio, Ren (third) Bruno Geneseo, Strasbourg's (sixth) Julian Stefan, and Canter's (ninth) Atoyan Comber are also in second place.
Although Messi has yet to make that mark by joining PSG, Gianluigi Donnarumma has become one of the top five goalkeepers in the eyes of the players. PSG has digested the second-lowest goal in the league. Argentina's Walter Benitez of Nice, who has conceded the least number of goals, has also been nominated. Naner Alban Lafon, Pao Lopez of Marseille, and Mats Sales of Strasbourg have completed the list of five.