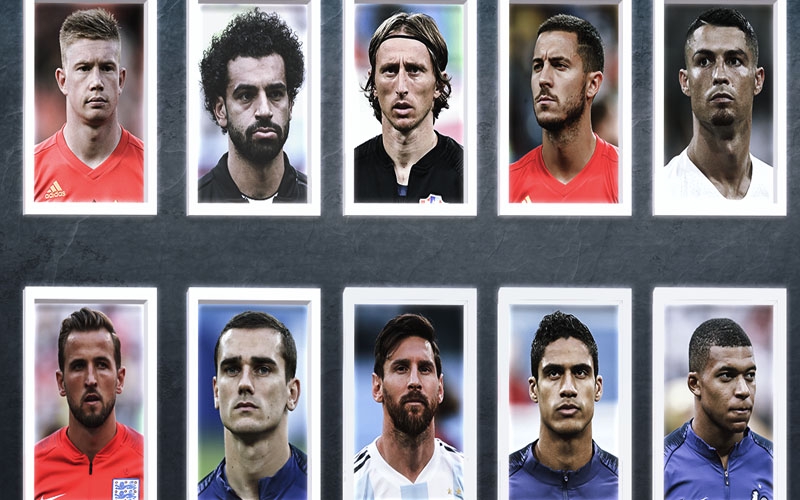 It has been announced that the FIFA World Player of the Year award for the 2010-18 season is a short list of ten Cristiano Ronaldo, Lionel Messi has got the place in the list. Brazilian star Neymar Junior has been dropped from the list of the top ten players of the year who are surprised.
It was predicted that the European club Football Matteo Messi-Ronaldo would be on the list. Neymar also did bad to Paris Saint Germain (PSG) in club football. However, due to the injuries of the month three, he did not find a place in the short list on the field.
Despite Neymar's place, his teammate Kylean Mbeepo has made the right place in the PSG. In addition to winning the World Cup, the PSG has won the domestic league as a deserving player, the emerging players of the World Cup in Russia.
In the short list of the 2018 FIFA World Player of the Year, Cristiano Ronaldo and Lionel Messi are on the list. But Neymar is in the top ten of the top ten.
Although the French club won the league title for PSG, Neymar did not play the full season due to a seasonal injury. His team was dropped from the second round in the Champions League, after the second round. And Neymar could not take a few more steps ahead of Brazil's exit from the quarter-finals of the World Cup.
There was no place in the short list of Paul Pogba, who performed very well on the way to the 20-year World Cup scoring for the country. But there are three from the list in France. Kylian Empty, Antoine Grisman and Rafael Verane Defender Vernon for Real Madrid will be the only defender in the top ten.
Mohammed Salah has been included in the team for the best performance of Liverpool, despite being dropped from the first round of the World Cup in Egypt. With the World Cup finals and Champions League winners, the Croatian captain Luca Rodriguez has been with Salah.
Although there was no light in the World Cup, Messi was determined to be in the short list at the club football's extraordinary performances. Barcelona won La Liga and Copa del Rey last season. Has been the top scorer of the European season this year.
Ronaldo, who won Real Madrid for his 13th Champions League title, went on to become the best player of the year. He has four goals in the World Cup.
FIFA World Cup coaching coach Real Madrid coach Zinedine Zidane has been included in the World Cup winning coach Didier Desmond.
A short list of players of the year
Cristiano Ronaldo (Portugal-Juventus)

Kevin de Bruin (Belgium-Mancity)

Antoine Grisman (France-Atletico Madrid)

Eden Hazard (Belgium-Chelsea)

Harry Why (England-Tottenham Hotspur)

Kylian Embaep (France-PSG)

Lionel Messi (Argentina-Barcelona)

Luca Madrid (Croatia-Real Madrid)

Mohamed Salah (Egypt-Liverpool)

Rafael Verne (France-Real Madrid)

A short list of coaches of the year
Massimiliano Allegri (Juventus)

Stanislav Cherchshov (Russia)

Zlatko Daiichi (Croatia)

Didier Desmond (France)

Pep Guardiola (City of Manchester)

Yugren Close (Liverpool)

Roberto Martinez (Belgium)

Diego Simeone (Atletico Madrid)

Gareth Southgate (England)

Ernesto Valverde (Barcelona)

Zinedine Zidane (Real Madrid)