Alisson has been a huge player for Liverpool, really solved a massive problem for them and can see him being between their sticks for the next 5-10 years. Fabinho is a big player, calm and collected and I always feel confident with him there! Made the midfield 3 far more competitive this year. Keita has still a lot to prove and taking him some time to settle. Once he's found a position that he's regularly played in, he'll hopefully hit some consistent form. He needs a goal or two to boost his confidence!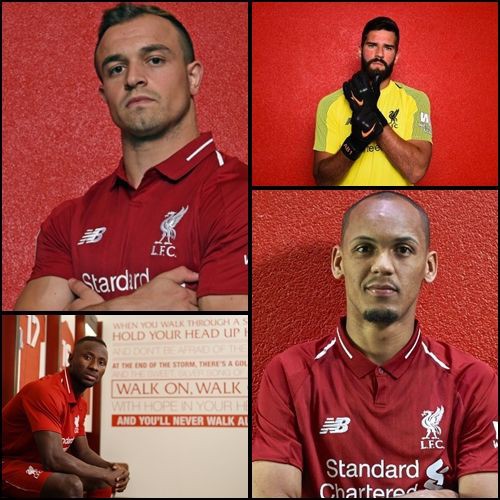 Shaqiri has been great super sub start to the season but clearly fallen out of favor recently. Still, think he's in with a shot of a starting position - maybe with Salah short on the form? Needs a couple more starts and he'll be on the team sheet soon enough. He doesn't get played as much as he should get comfortable in the system and in the premier league. Allison and Fabinho two of the best buys and Shaq too and needs to play more. Not sure why he's not being played.
Allison makes a few mistakes, but often when they win. Then he saves them in the games when they need him. Fabby has to start over Hendo every time. Keita was built up from the anticipation. Liverpool waited. He's been very underwhelming. I hope he improves. Especially for the price tag.
I still think he looks a bit off the pace in the premier league next season is a big one for his career. For the price, I think Shaqiri is by far the best signing. He brings so much energy every time he plays. Shaqiri was the best for his value and Alison was the one who made the biggest impact.
Alisson has been great, Shaqiri is great I think Klopp should play him more and in the end, there is Keita. Everybody is unhappy with him because they all expected so much but I think Liverpool should just give him some time because except salah there are only a few players that were great their first season in the premier league.
They need to give him time and Shaqiri was a bargain for his capabilities. Keita needs time and some more aggression as he gets taken off the ball too easily but has amazing feet/skills that could make for a brilliant. Fabinho is the missing puzzle in that midfield and Alisson, he is really calm and composed even when he made a mistake and the most needed position since they didn't have a decent goalie back then.
Out of the lot in pre-season, Keita was the one I was most looking forward to, he not only created and scored goals in Germany but was also very good off the ball with interceptions and tackles when needed. He has had a tough start and I've yet to see the Keita at LFC that played in Germany and Europe. Hoping next season he will flourish. Alisson has been a dream of a keeper, they have needed someone like him for a very very long time.
Fabinho has done a fabulous job, and Shaq for the price tag has done very well (man u game alone was incredible). Liverpool now signed a goalkeeper that could bring more confidence to defense and a Very versatile player, that can play as right back, Full back and midfielder. Fabinho is cheap, considering many positions he can play for Shaq, He's not playing that much now but he was impressive against man united at Anfield, and also was very cheap for Premier league patterns.