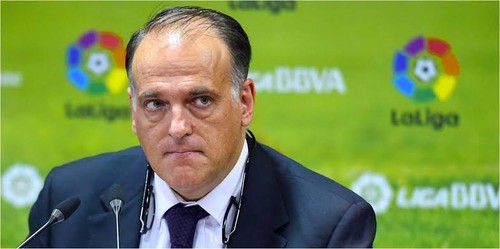 La Liga President Javier Tebas urged UEFA to immediately punish Manchester City severely because of financial financial doping.

Manchester City was previously a mediocre team. However, they could transform into a giant team in England after being bought by a wealthy businessman from Abu Dhabi, Sheikh Mansour in 2008.
City can then bring the world's top players to the Etihad Stadium. They began to dominate domestic competition in England, and even able to compete with its rival rivals, Manchester United.
However, many people accuse that the City is cheating financially. They claimed not to obey the rules of Financial Fair Play (FFP) from UEFA.
City itself is currently undergoing an investigative process from UEFA, related to indications of violations of the FFP rules. If proven guilty, one of the penalties they can get is kicked out of the Champions League competition.
Currently Manchester City can still play in the Champions League competition. And while waiting for a complete investigation, Javier Tebas spoke up about the case.
The 57-year-old man urged the UEFA to impose severe sanctions on Man City. He felt confident doing that because he had data related to The Citizen's financial transactions which, after he learned, was considered unnatural.
"Obviously sanctions need to be imposed ... I know the Manchester City figures, where their income comes from and the figures don't make sense to a certain extent," he exclaimed as reported by the Daily Mail.
"One of the main problems in European football is related to doping (financially). Because when we have a club that is funded by the state it has an impact on salaries," Tebas exclaimed.
Manchester City is not the only club highlighted by Javier Tebas. The man from Costa Rica also smelled indications of similar financial violations by PSG, which is owned by a Qatari company, Qatar Sports Investments.
Tebas felt that so far UEFA was working quite well in handling FFP violation cases. But he saw the agency was still less ferocious when dealing with Man City and PSG.
"I think in some cases (UEFA) have handled some FFP cases in the right way and for that they must be congratulated but there are two special cases, Manchester City and PSG, which I think are not handled properly," Tebas said.
"That is not only my opinion but also the members of the UEFA financial committee who think it would be better to open the PSG case again," he continued.
PSG was investigated in connection with the alleged violation of FFP, but in 2018 yesterday but the UEFA said they had not committed any violations. However, the Manchester City case was later referred to the UEFA Club Financial Control Agency following allegations that they inflated the value of the sponsorship agreement in what was claimed as an attempt to outsmart the FFP rules.