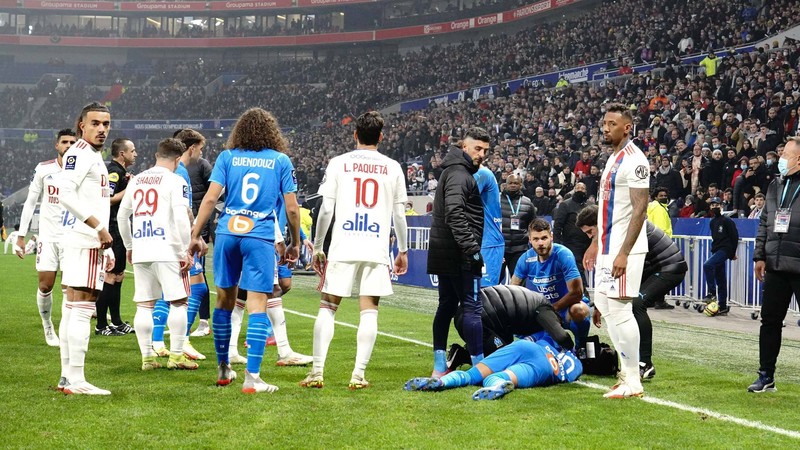 Dimitri Payet was attacked with a full water bottle during Olympique Marseille's match against Olympique Lyon. The match was initially suspended, and later abandoned. The league association and the authorities contradicted each other on the question of who wanted to continue the game in the meantime.
As early as the 2nd minute, the execution of a corner kick by Payet was delayed because objects were thrown in his direction from a block of Lyon fans. When Payet was about to take the corner again after about three minutes of waiting, a filled water bottle hit him in the head.
Payet was treated on the turf for several minutes before being led into the dressing room with ice packs on his head. The perpetrator was already spotted during the interruption and taken into custody.
The teams initially went to the dressing room. In the stadium, about 80 minutes after the interruption, it was announced that the game would continue. Lyon's players then warmed up again on the pitch for minutes, but initially no one from Olympique Marseille came onto the pitch. After that, Lyon's players also went back to the dressing rooms.
The match was officially cancelled. "Our players followed the referee's instructions and returned to warm up. Then the referee changed his mind." said Lyon president Jean-Michel Aulas.
Authorities and league in open conflict
Meanwhile, between the French league association LFP and the authorities came to the open contradiction. "The league regrets the decision of the regional prefect to resume the match," the LFP announced.
The local police published several statements to the contrary on Twitter: It said that after the match was suspended, the LFP, the clubs and the referee met. "Contrary to some rumors, the decision to resume play does not rest with the prefect. This rests solely with the referee."
Subsequently, it was also said by the prefecture: the referee had wanted to continue the match after said emergency meeting. The LFP had mistakenly spread the information that the authorities had made this decision. Later, the referee decided to stop the match.
The LFP condemned the incidents, criticized a loss of image of the league and announced consultations for Monday. Then it will probably be about a rescheduling of the game and consequences for Lyon.