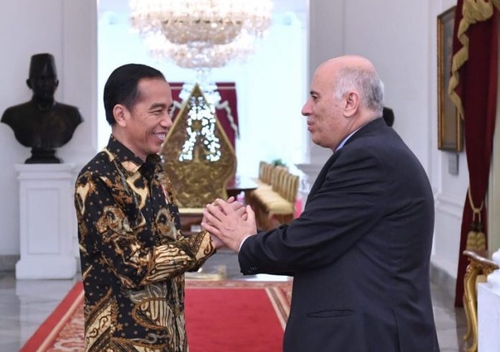 President Joko Widodo, Tuesday (08/21/2018), received an honorary visit from the Chairman of the Palestinian Olympic Committee Jibril Mahmoud Muhammad Rajoub at the Merdeka Palace, Jakarta.
In his remarks, President Jokowi said, the Indonesian people welcomed the participation of Palestinians in the 2018 Asian Games.
This can be seen from the rousing welcome from the Indonesian people to the Palestinian contingent at the opening of the 2018 Asian Games at the Bung Karno Stadium, 18 August 2018 ago.
President Jokowi also believed that the rousing welcome provided a new motivation for the Palestinian struggle for independence.
"I am sure the Asian Games will provide a new energy for the Palestinian cause and for our peace and brotherhood," Jokowi said.
In the speech, the President also thanked Palestine for the 2018 Asian Games held in Jakarta and Palembang. Moreover, there are quite a number of Palestinian athletes participating.
"The whole world knows that Palestinians are present in sending large numbers of athletes. There are 88 athletes for 14 sports," said Jokowi.
Also attending were President Jokowi, Minister of Foreign Affairs Retno Marsudi and Minister of State Secretary Pratikno.