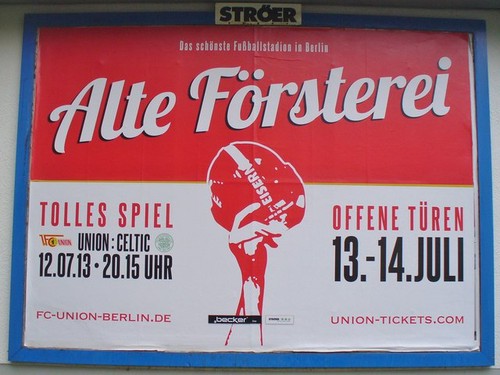 End of May Union Berlin has managed to fight down VfB Stuttgart in two very intense relegation games and for the very first time in their own history have been promoted to the 1st Bundesliga, they now need to plan their next season.
And those who have thought that the first thing the Berlin club would do is to raise the price of tickets for its own home matches were pleasantly disappointed.
According to the club, the season ticket prices should remain at the same level as in the 2nd Bundesliga, a standing room season ticket for the 17 games in front of their own audience in the stadium "Alte Försterei" will then continue to cost 153 euros, as the most expensive seat subscription will then also be available at the usual price of 646 euros. Yes, your eyes are still fine, I am talking about standing room tickets for a first league football game!
That's good news for all fans of the new Bundesliga member, who together with the club and the team looking are forward to the new season and the big adventure of being in the highest German football league.
Of course there are also some downsides, because to get tickets for the 17 home games in front of your own audience, you probably have to prove your stamina.
With the season tickets like with many other clubs, first of all the past season ticket owners with club membership will be given a chance to get lucky. The "Alte Försterei" has only a capacity of 22,000 visitors, and only part of the tickets is sold as season tickets. And since the number of members of the 1. FC Union Berlin has risen again in the last weeks by about 5,000 new members to over 28,000 now, there will be little or no chance to get one of the desired season tickets.
Naturally, the tickets in the free sale are also sold first to their own members, loyalty to the club must indeed be rewarded. And I am 100% sure that in the next season the Alte Försterei will be full and sold out for every home game. The season ticket sale for the Alte Försterei starts next Tuesday and will probably be finished within a short time. No Unioner will want to miss the spectacle of the Bundesliga.
I hope that also the prices for the single tickets will be sold to the previous prices, because even after this big triumph Union won't aim for the big money.
What matters is the Union Berlin experience, with all the ups and downs that belong to this wonderful club. So let's look forward to the great adventure of the Bundesliga and enjoy the fast ride with full speed.
---
Und niemals vergessen - EISERN UNION !
(And never forget - EISERN UNION !)