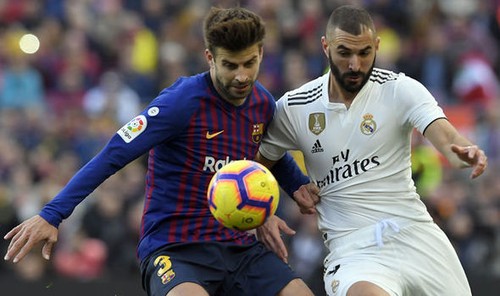 Barcelona bertemu Real Madrid dalam pertandingan La Liga pada Minggu (28/10). barcelona menang dengan skor 5-1. Real Madrid had a very good performance and opened the opportunity through Karim Benzema. Starting from Gareth Bale on the right side of Barcelona's defense, the player sent a cross to Benzema waiting in the penalty box. Unfortunately the shot was still too high above the crossbar.

Barcelona excels! 11th minute, Jordi Alba managed to rip Madrid's defense from the left side. He then put Thibaut Courtois out of his position and immediately gave the pass to Philippe Coutinho. The player from Brazil also easily broke into an empty goal1-0.

Penalty! VAR monitoring results in the 29th minute showed that Raphael Varane was proven to have dropped Luis Suarez in a forbidden box. Suarez, who was believed to be the executioner, did not waste a golden opportunity and succeeded in breaking down Courtois' goal. 2-0.Barcelona controlled the match, and barely gave Madrid the opportunity to work. Ball possession records amounted to 62 percent versus 38 percent to cover the first half, with a score of 2-0 for Barcelona of course.

In the second half, Real Madrid immediately offered resistance. The result was a goal created when the match ran for five minutes through Marcelo's feet, after receiving feedback from his colleague, Isco.The counterattack initiated by Ousmane Dembele arrived at Sergi Roberto's feet. The midfielder then threw a pass towards Luis Suarez in the penalty box and was immediately greeted with a header towards goal. Goals, and the score becomes 3-1.

Suarez Hat-Trick! In the 83rd minute, Sergio Ramos's mistake made Sergi Roberto easily give feedback to Luis Suarez. The attacker stabbed from the right side and easily broke Courtois's goal. 4-1.Again Gol! Arturo Vidal added Madrid's pain with his goal in the 87th minute. Utilizing feedback Ousmane Dembele, former Bayern Munich player was easily broken into the Madrid goalkeeper with a header. 5-1.
The referee blew a long whistle the final sign of Los Merengues suffering. Luka Modric and friends had to go home with their heads down after being slaughtered by Barcelona who was in a limp without Lionel Messi.