Qatar makes history at the Asian Cup. For the first time the kickers from the Emirate are in the final of the Asian Cup. The defensive also convinces in the semi-finals.
The national team of Qatar has followed record winner Japan to the final of the Asian Championship. In the semi-final in Abu Dhabi, the future host of the World Cup won 4:0 (2:0) against the Asian Cup host United Arab Emirates and on Friday (15.00 CET) he will take his first title.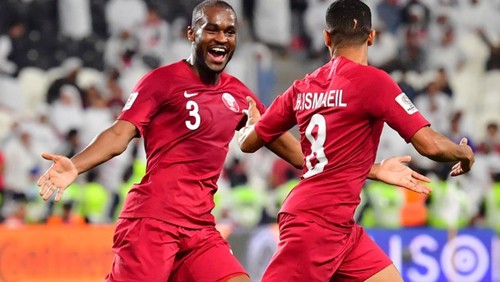 The Qatari were also not unsettled by the hostile atmosphere in Abu Dhabi. Fans of the hosts threw shoes and plastic bottles on the players of Qatar, it came repeatedly to interruptions.
Boualem Khoukhi (22), Ali Almoez (37), Hasan Al Haydos (81) and Hamid Ismaeil (90 +4) scored for Qatar, who had not made it past the quarter-finals in their eleven Asian Cup appearances to date. The hosts ended the match in ten minutes because Ismael Ahmed (90.+1) had to leave the field with a red light shortly before the final whistle.
Qatar still without conceding goal
Qatar were also able to rely once again on their outstanding defensive, which has not yet conceded a goal in the entire tournament. The United Arab Emirates had previously eliminated defending champions Australia, among others.
Japan had already entered the final on Monday thanks to their Bundesliga pros Yuya Osako and Genki Haraguchi. Bremen's Osako (56th, 67th, handball kick) and Hanoverian Haraguchi (90 +2) led the record winner in a 3-0 (0-0) win over Iran to the fifth final of the Asian Championship.