Bayern Munich now back - Borussia f..ed it up again?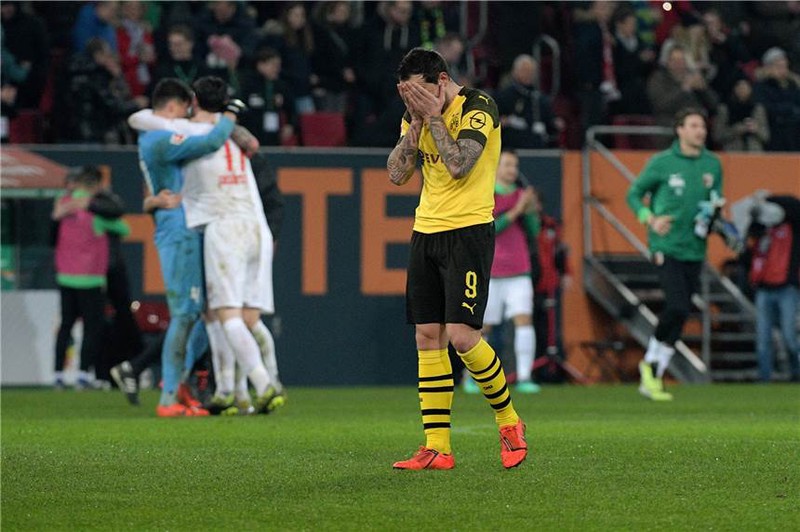 A disaster for Borussia Dortmund after their loss in Augsburg - BVB concedes its second defeat of the season and Ex-Dortmund player Dong-Won Ji scores a double for Augsburg and stole the show from Marco Reus at his comeback and made the Bundesliga championship race even more exciting with an almost historic double pack. I do not need that excitement though!
With his golden goals (21., 68.), the South Korean led FC Augsburg to their first home win ever against Borussia Dortmund in a completely surprising 2:1 (1:0). Paco Alcacer (81.), who had just substituted for Paco Alcacer, could only shorten the game for the visitors.
Reus criticizes mistakes
Ji needed two more attempts at the leading goal, his second goal was a real feat - a splendid lupus over the helpless BVB goalkeeper Roman Bürki. Alcacer made the game exciting again with his eleventh Jokertor.
Augsburg thus gave defending champions Bayern Munich a chance to equal Borussia, who lost only for the second time this season, with a win on Saturday evening at Borussia Mönchengladbach. (SERVICE: Results of the Bundesliga)
"This is a phase we need to get through, but we need to get it over with as soon as possible. Otherwise it'll be very, very tight at the back," says Reus.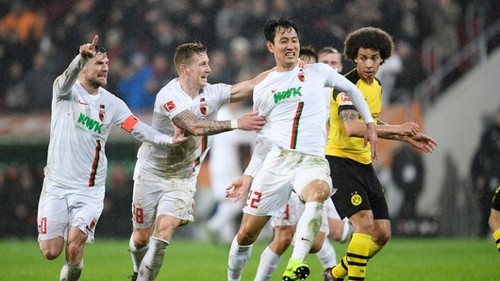 First home win against BVB in eighth attempt
For Augsburg and coach Manuel Baum the deserved first success against the pale Reus was an important sign of life in the relegation fight in the eighth attempt against Dortmund.
"Today we should have won. Our opponents have virtually no shots on goal - yet we're losing," said Lucien Favre. "I don't want to talk about the individual mistakes, so I have to watch the game again. We lose this game totally unnecessarily. Then we have to stay calm, not make more mistakes."
According to Baum, Augsburg's tactic was to give Dortmund "no tenths of a second's time" in possession of the ball, that is, to press early and bitingly. However, in front of 30,660 spectators in the sold out WWK Arena it was the BVB that left the opponent hardly any room to breathe. Led by Reus, who his colleagues were always looking for, Dortmund started up high and provoked mistakes. This almost led to success early on, when Jacob Bruun-Larsen served Reus, but he was defeated by goalkeeper Gregor Kobel (8th). Baum's plans were thwarted once again when he had to take back Konstantinos Stafylidis from his position due to injury, and Georg Teigl (17) took his place. But the Augsburgers, who lacked not only striker Alfred Finnbogason but also defensive chief Jeffrey Gouweleeuw, soon defended more concentrated. The BVB made life difficult for itself with many slight (playback) mistakes.
Defensive mistakes open the door for Augsburg
This was also the case before the 1-0 defeat when Dan-Axel Zagadou lost the ball to Andre Hahn, whose pass found Ji in the middle. The striker was defeated by sliding Manuel Akanji, but his shot was fired into the net in the upper left corner. Bruun Larsen had the equalizer on his foot, but failed because of Kobel's strong reaction (42.).
The fact that he is here alone is good for the team," said BVB boss Hans-Joachim Watzke about Reus before the kick-off whistle at Eurosport. And the captain tried to sweep his colleagues along even after the change of sides. But after a four-week injury break, the national player lacked the strength to make room for Raphael Guerreiro in the 66th minute.
Kobel saves Augsburg
Augsburg let itself fall deeper and deeper with increasing duration and thus offered hardly any more space. A bad bad bad pass of the indisposed Achraf Hakimi then introduced the 2-0. Ji let Zagadou out and lifted the ball skillfully into the goal.
"We have to be in the right positions and not make the individual mistakes. Such mistakes must not happen," Reus said.
The substitute Paco Alcacer then took the opportunity to score the second goal. The outstanding Kobel saved the home team's victory afterwards.
"We are overjoyed. That we could celebrate once again in our curve. We threw everything in today. We needed a game like that - really good for us," said Daniel Baier: "We couldn't keep the ball in our own ranks anymore, luckily it was enough.