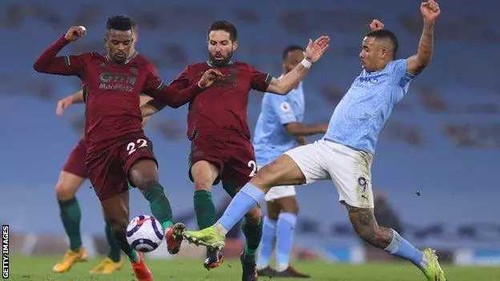 Manchester City hits 21 consecutive wins in all competition.
An own goal from a wolves player puts Manchester City in front in the first 15 minutes. A goal from Conor Coady put the visitors level on 1-1 goal with Manchester City. It took Gabriel Jesus until the 80th minute to put Manchester City In front. Two more goals were scored by the same Jesus and Mahrez to make it 3 goals in ten (10) minutes. Riyard Mahrez goal was his seventh of the season. Jesus' goal was ruled onside with the help of VAR.
This is what Pep Guardiola said after the match in summary.
(Pep Guardiola speaking to BT sport) Pep Guardiola said that his team were fantastic. After they suffered 1-1 but they created lots of chances in the end.
Pep also added that Manchester United is all they care about now. The Champions are the Liverpool, the crown belongs to them. "We are at the best position right now to take them out and we are going to try but they are the championships, Guardiola explained.
There are thirty three (33) points to play for, says Pep. Tommorow our opponents will play, and we've got one or two days off and prepare for Manchester United.
Thanks for reading. Don't forget to follow, comment and share. Do you think Manchester United can stop the unbeaten record and the consecutive wins of Manchester City or it's Manchester City who's going to end the Manchester United away unbeaten record. feel free to tell us in the comment section.