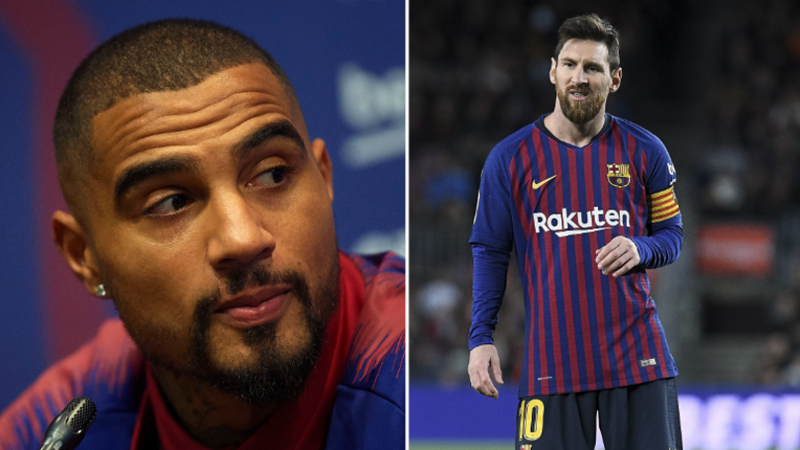 Monday saw reports about Boateng joining Barcelona on loan. He obviously became the first player from Ghana to wear the Blaugrana Jersey. During his past days as a footballer with other country clubs, the 31 year old German-Ghanian has probably lived a naughty personal life. This cost him his space at Schalke 04 as he was caught drinking alcoholic substance as well as smoking. Ultimately, he ended up at AC Milan and could only stay for about 24 weeks before turning a free agent.
His notorious lifestyle secured him a headline news in 2012 after Melissa Satta relieved how excessively he is addicted to having sex. "He is always injured because we have sex seven to ten times a week," she said.
One of his acts, though based on personal opinions this time around records how the midfielder/forwarder had preferred Ronaldo to Messi when it comes to who plays best. The players tweets on such topic ridiculously resurfaced following his new deal with the Catalan club.
Luis Suarez and Sergio Busquet were victims of the mouth pipping where he frivolously called them divers.
Probably after those tweets reappeared, Kelvin-Prinve had to seize the opportunity to get a U-turn on those words. After his loan to Barcelona, he decided to let bygones be bygones and wants to focus on his new club now. He definitely hopes to score on the next El Clasico encounter against Real Madrid. He equally made some praiseworthy comments about his new teammate Lionel Messi. Despite referring to Ronaldo as world class, he insisted that Messi is the best outside this world, stating his credibility and how the Argentine superstar does what nobody else can do. Cr7 dominates this world while MS10 is ahead of everyone. Majority believed the reason for the turn around was to avoid starting his career with club on a bad note. Its crystal clear that whosoever goes against the 5 times Ballon d'Or winner has gone against the whole club.
As controversial as it seems but this signing is a prime example of "No Emotions, Pure Business". he said.
Thanks For Reading...