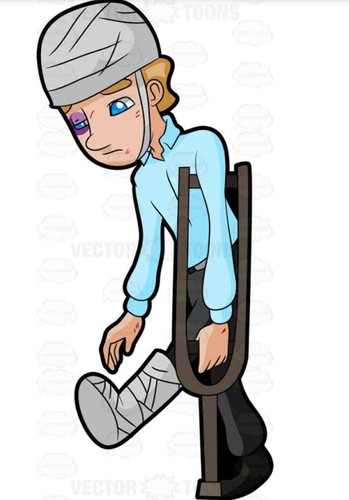 An article in reference to @pete moan day contest that comes up every Monday with lots of fun, action, laughter and comic relief. If you are here and you've not taken part, trust me you've missed a lot. Hit the link to participate. https://scorum.com/en-us/ski/@pete/happy-moan-day-november-12th-2018
You've got some SCR and upvotes to receive in admiration of your genuine work. No much, no less, its a bomb😝😋😝.
After the exit of Leonardo Jardim and introduction of Thierry Henry as the new head coach of the French club Monaco, expectations arouse that the club would pick up its negative pace and change course of direction towards the top table. Alas, those expectations were just like pixel dusts in fairy tale movies. Thierry Henry was involved in Belgium's coaching team during the world cup where he served as the second assistant coach to Roberto Martinez Many has praised him, hyped him for Belgium's success. Belgium were technically successful in the world cup under the influence of Roberto Martinez, not Henry. For heavens sake, he was the second assistant coach not even the first😵.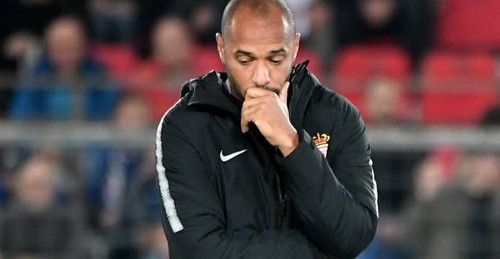 Since his arrival to Monaco, he has been dealt with even by underdog clubs both in a home and away basis. Last week really saw terror for Monaco as they were trashed and battered 4-0 by Club brugge in the champions league and Paris saint German their Ligue 1 encounter. Adding salt to injury, both games held at the Stade Louis II 😥. How careless could they have been to allow Club brugge and PSG raid their home ground, leaving them brutally injured. That's what I call fatality 😎.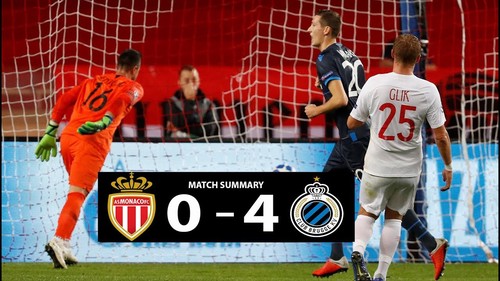 On Tuesday night (UEFA CHAMPIONS LEAGUE).
MONACO 0⃣-4⃣ CLUB BRUGGE.
Monaco started well with the ball, leading in possession but couldn't find the back of the net. Hans Vanaken for the Brugge side drew the first blood with his tap in goal in the 12th minute after some defensive error from Monaco. Five minutes later, Antonio Barreca gave out a penalty to Brugge while Hans Vanaken puts in his second goal from the spot kick. In the 24th minute, Wesley increased the scoreboard to 3-0 from an outside ranged shot. Half time was over and we thought Monaco would be able to redeem themselves of this shame in the second half. Having most of the possession to themselves every minute of the game couldn't save them the humiliation. The second half began and the game was calm until Ruud Vormer saw himself in a one-on-one situation with Monaco's goalie and swiftly got the ball past him into the net. The game ended in a four-nil win in favour of the visitors.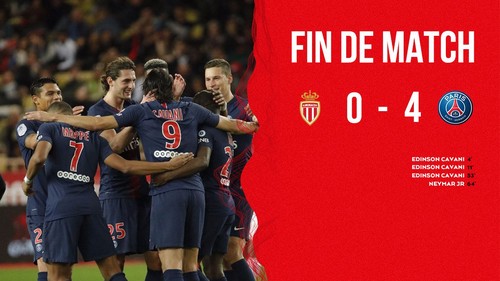 On Sunday night( Ligue 1 )
Monaco 0⃣-4⃣ Paris Saint German
This game was actually between Monaco and Edinson Cavani. Returning from injury after missing three games, the Uruguayan striker extended their perfect league record to the top table. Visiting Stade Louis II, PSG wasted no time as they changed the realm of the game with a goal lead in the 4th minute through Edinson Cavani. Before Monaco could realise what just happened, he netted again in the 11th minute making the scoreboard 2-0 Half time😸. Cavani completed his hat trick 8 minutes into the second half while Neymar made it 4 through his decisive penalty shot in the 64th minute. Cavani really did some kinda damages to Thierry henry and Monaco. He aded to the Frenchman's woes and I fear Henry might be up for sack sooner than expected😪.
WHO'S TO BLAME?
Its never my concern to decide and I can't really point fingers but from my drastic point of view, Monaco really sold of their pride. The likes of Kylian Mbappe, Thomas Lemar, Fabinho and so on.
Now they are in mire, only off the Ligue on table on goal different😭.
Well, I'll drop an encouraging word not just for henry this time but to the whole of Monaco and it fans;
Once beaten, twice shy(Caution has to be induced ASAP).
Thanks For Reading...😘
All images sources from Google.