It was a thrilling UEFA champions league quarter finals clash between the two top English premier league teams. The match between Manchester city and Tottenham became one of the most interesting and and worth watching UCL exit with Manchester united vs Paris Saint German Round of 16 tussle included.
However, Last weeks Wednesday night became a night to remember as it was so colourful battle from both sides and a festival of early goals. Just before one could visit the rest room and make it back to the sitting room,.... Boom!!!..... Its 2-2. It was hilarious in a shocking mood. How could one miss four solid goals scored within 12 minutes? haha.
This is a happy Moan day contest organised by Pete. Hit the Link to get the fun rolling.
Tottenham was able to go ahead in the UCL first leg at their new stadium with Heung-Min Son scoring the only goal. It was a tough time for Pep Guardiola who left Leroy Sane and Kelvin Dr Bruyne out of the game till few minutes to the final whistle. All eyes on both the German and Belgian superstar, they weren't able to make much impact with the little time led on the clock. The 1-0 home victory gave Pochettino the confidence he needs to advance to the semi finals of the tournament.
However, the return leg to City stadium became a power goal tussle where we witnessed five goals in opening 21 minutes. The shortest amount of time it has ever taken to score five goals in a champions league match. Raheem Sterling with the opener in four minutes while Heung-Min levelled the ground three minutes later. We thought we've seen it all then kaboom!!!! Heung-Min with another goal, giving Tottenham the lead just before Silva equalised, keeping the game level once more. Sterling gave City the lead again in the 21st minute after receiving a fine instrumental assist from Belgium star, Kelvin De Bruyne. Sergio Aguero made it four for the home team in the second half just before Llorente reduced the deficit to 4-3 making it 4-4 on aggregate with Tottenham to qualify if the game stays that way.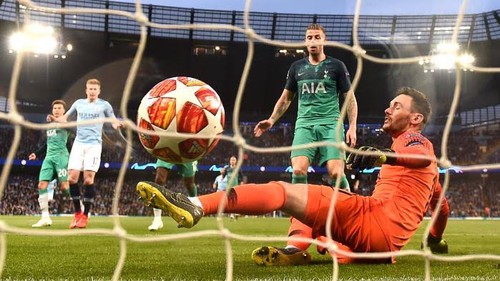 At this point, drama began to unfold. The home team were really struggling to set another course on goal but the opposition defence was just so good. How fate may have it, Erikson lost the ball to City who went on a quick attack to score another goal with five minutes added time on the clock.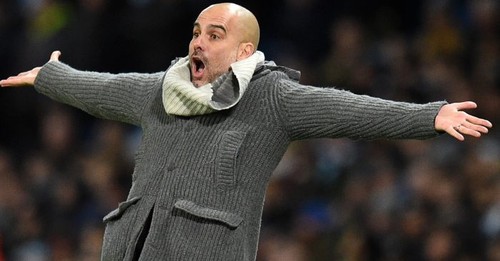 You should see the stadium tear into two in celebration. Pep Guardiola jumping high to touch the sky, Sterling running faster than Cheetah itself in celebration. The fans chanting songs of victory. Lloris and his teammates were totally devastated. The moment of celebration was halted by the referee as he was quite and pale about to make another decision. Whaaaaaaat!!!!!! VAR called for an offaide and it was displayed no goal..... Tottenham are on their feet now celebrating while City kept their cool. The table just turned around to favour Pochettino and his army. What a game!!! What a moment!!! Thus is a total Tragic-Comedy. A relief for one and seizure for another. VAR has spoken and it final.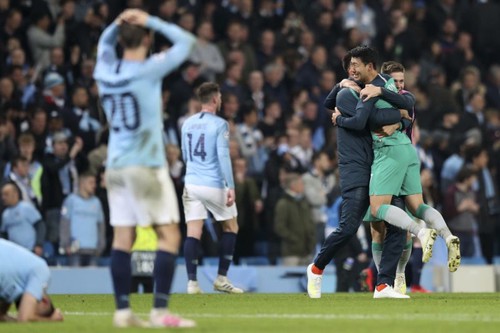 Just when the England international thought he had a hat-trick at the death at the Etihad Stadium, but a review showed Sergio Aguero was offside in the build-up. Spurs had already been assisted by VAR when Fernando Llorente bundled in from close range 17 minutes from time, which made it 4-4 on aggregate and ultimately booked a semi-final date with Ajax.
Word Of Encouragement
There is no substitute for hard work. Never give up. Never stop believing. Never stop fighting - Hope Hicks.

Thanks For Reading...