A trending topic, a superstar in the making. 18-year old London born Jadon Sancho is grabbing the headlines with his performances in not only the Bundesliga but also Champions League with Borussia Dortmund. While others his age are currently dreaming of playing professional first-team football, he is making it a reality.
Who is Jadon Sancho?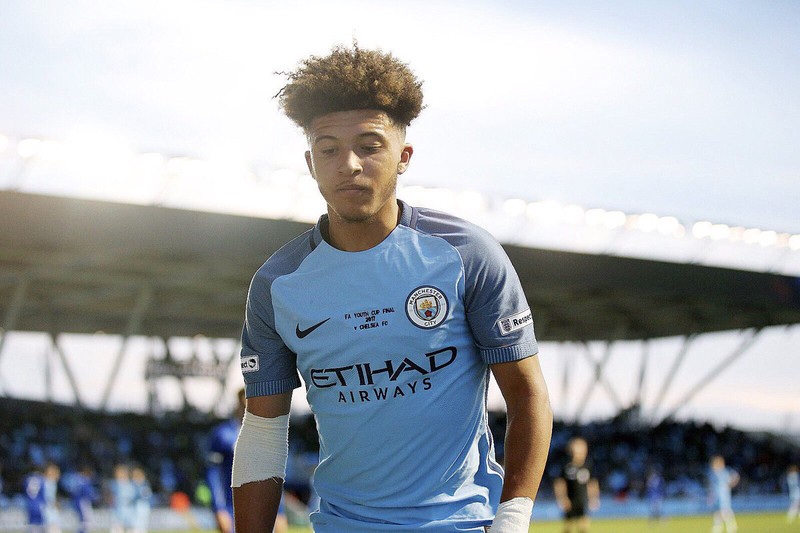 "After school, I just wanted to play football. All around me, there were people who did bad things, but I never wanted to deal with them" - Jadon Sancho
Born in England on March 25, 2000, Sancho started his youth career with Watford before switching over to Manchester City in 2015. His idol the great Ronaldinho, after several spectacular performances - being way ahead of his class in terms of playing ability, skill, and mentality - he was brought up to the U18 side at City. Here he remained until the age of 17 until he was bought by Dortmund for a £7.05m fee in August of 2017. The reason? A lack of first-team opportunity. With Pep Guardiola taking over the realms of the club, he went on a spending spree to create his 'perfect team'. With an attacking force of Sergio Aguero, Gabriel Jesus, Raheem Sterling, Leroy Sane, Riyad Mahrez, Bernardo Silva, everyone could see where he would be in the rankings.
Germany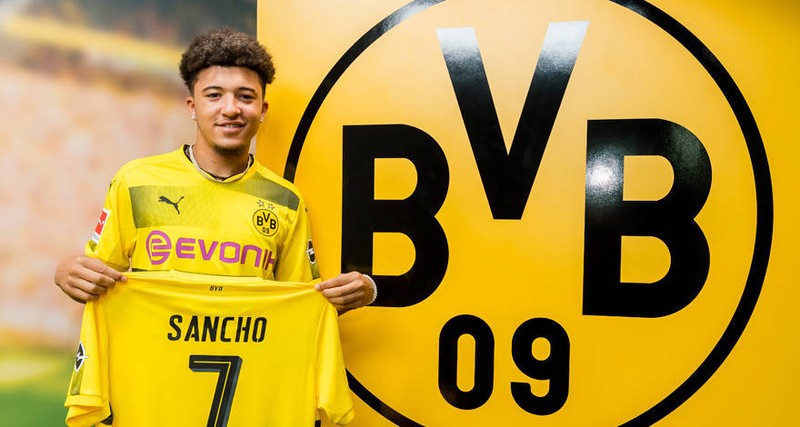 A first season in Germany that consisted of 12 Bundesliga matches, 1 goal, and 4 assists, Sancho worked hard over the past summer to try and cement his position as a main player for the 2018/19 season with new manager Luciene Favre. So far, although not starting as often that he would like, he has been given that opportunity and has clearly taken it showing his incredible vision and true talent. Treated as the 'twelfth player' at the club, Favre has called upon the player in every match this season so far.
Statistics
In his first two matches of the Champions League, he has started both (69' against Club Brugge and 84' against Monaco) while picking up an assist in Matchday 2 of the competition. An impressive feat - this is nothing compared to Jadon's record in the Bundesliga. In just 124 minutes of football action (appearing as a sub in every match) the Englishman has been able to score a goal while also providing 6 assists - that is a point every 18 minutes (17.7 rounded up). Incredible, insane, unrealistic, the youngster has turned several heads, with the word spreading about himself being the next big thing in the world of football.
Key Matches
In Matchday 1, Sancho recorded his first point of the 2018/19 season as he provided an assist in Marco Reus' goal (last goal) in the 4-1 win over RB Leipzig.
In Matchday 3, Sancho recorded two assists in the 72' (2-1) and 88' (3-1) to help Borussia defeat Eintracht Frankfurt 3-1.
His only goal so far came in Matchday 5 of the league against Nuremberg (sixth goal) in a 7-0 thrashing. What may seem like a 'meaningless goal' to most, Jadon was finally able to kickstart his scoring career at the club. In addition, following his first goal, he also provided an assist to Julian Weigl on the seventh and final goal of the match just three minutes later.
In Matchday 6, Sancho's brilliance was needed in a match that Dortmund were struggling in. Facing Bayer Leverkusen, Favre's side conceded twice in the first half before pulling one back in the 65'. Looking for fresh legs, Sancho replaced Christian Pulisic in the 68' and it only took him a minute to make an impact. He assisted Marco Reus in tying the game up at 2-2, before providing another assist, this time to Paco Alcacer in the 90'+4' to secure the victory.
England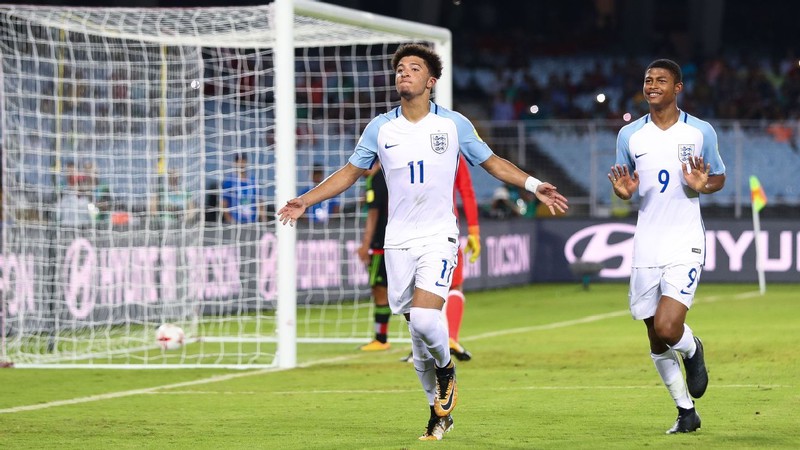 Sancho is the first player born this century to be called up by England. After impressive performances, on October 4th the youngster was named in Gareth Southgate's 25-player squad to play Croatia and Spain for the UEFA Nations League this month.

"Jadon's is an unusual story for a young English player. He's been brave enough to go abroad and play; he is a player that excites us a lot. He is adapting to a big football club and has had two starts in the Champions League this year for the German club. He's a player who is explosive and creative in the final third" - Gareth Southgate