A few months ago I bumped into an unusual football website. It's called Mycujoo, they have already launched iOS and Android apps, and can be characterized as 'football Twitch'. In this case football clubs, leagues, national and regional federations act as streamers, who broadcast live football, futsal and beach soccer competitions. Moreover, ordinary user has an opportunity to launch a stream channel after filling in a special form.
Content is unique 'cause there is no way to find live translations of nearly 95% broadcast matches, legal and free to watch. Furthermore, only approximately a half of of all translated plays is coverred by Flashscores with very limited statistical data (usually it's only final score in a FRO regime (final results only), meaning there are no live changes).
Website Contents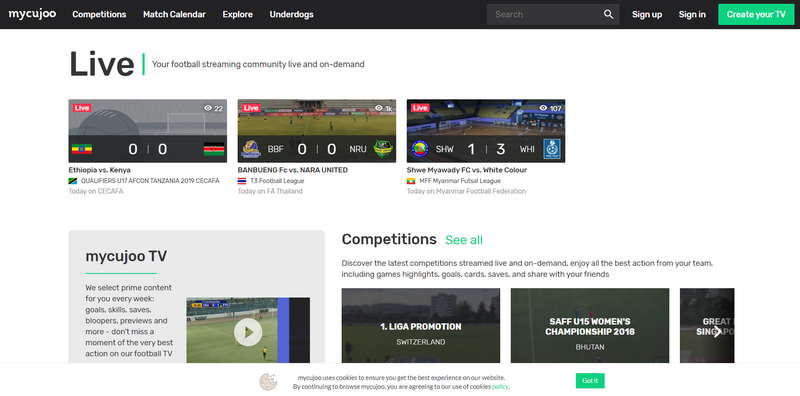 Content uniqueness can already be seen on the screen above, under the 'Live' menu. However, most of plays are not to everyone's taste. Representation of content is worldwide and can be classified into following categories:
games of weak top tiers (for example, Mongolian National Premier League). As an exception I can admit Uzbekistan Super League, which is among strongest national leagues in AFC zone, 'cause 1-2 clubs always take part in an Asian Champions League group stage) or translations of Europe League qualification rounds on 'Shakhtar Soligorsk' channel;


matches of low-leveled leagues in relatively strong football countries (for instance, Brazil state championships or 2-3 Danish, Swiss leagues);

youth competitions on the national or continental level in U12, U14, U15, U17 etc. categories;

futsal games from all over the world, however, they are broadcast quite seldom;

beach soccer plays — that's the most valueable content and popular, I've found surfing the resource (approxiamately a month ago plays from both Euroleague divisions were covered by Mycujoo).
'Competitions' page is devoted to grading them by a number of views and date of translation. 'Match Calendar' gives information about upcoming events. In 'Explored' you can find streamers by their location, federation, league or club membership. 'Underdogs' contains romantic stories about football.
Pros and cons for spectators
As a frequent user of Mycujoo for several months, I can state that:
+:
unique football streams (tail side is its 'pecularity');

streams are absolutely legal and free (the only thing you need to do is to watch 5-second ad), moreover, translations don't freeze up;

you have access to Mycujoo from your laptor, tablet or smartphone;

full broadcast plays are saved, you can watch them again at any time you like;

text and visual content;

promotion of football in weak football states;

friendly interface — on the player's right side there is an access panel with goals, yellow cards and goal chances as well as stats.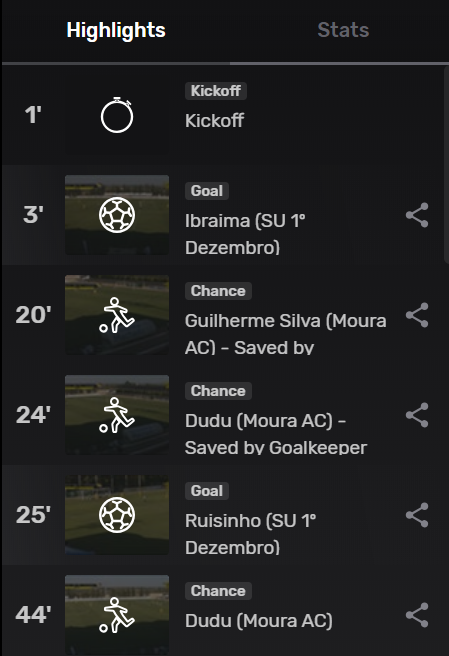 -:
sometimes channels don't stream planned in calendar matches;

in some matches the quality of streaming (I mean camera position or its characteristics) is quite low, despite the fact that Mycujoo player doesn't freeze up with an average Internet access;

there is no extended stats (f.e., league tables) of tournaments, which are practically fully streamed on Mycujoo;

there is practically no Champions League or Europe League qualifications streaming, or European weak top tiers (meaning microstates such as San Marino or Andorra);

it's not clear whether citizens of weak football countries have an access to Internet so that the popularization of football in such states cound be regarded as a benefit.
To sum up in brief, I strongly recommend to surf Mycujoo just for fun, 'cause there you can come across football you'll never see anywhere else. However, I would foresee that more European translations would rocket website's audience.